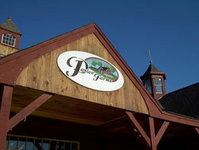 Tyngsboro, MA (PRWEB) June 27, 2014
Parlee Farms, a family farm near Boston, MA, opened for the 2014 picking season on June 17th.
"We are excited to announce that we are now open for our 27th season of picking here at Parlee Farms! We had an unusually cool spring here in New England which means that the crops are running about a week late. We are excited to see all of our loyal customers and newcomers as the 2014 picking season gets underway!" said Ellen Parlee, owner of Parlee Farms.
Parlee Farms, open from early-mid June through October each year, provides locally grown fruits, flowers, and vegetables that are available as pick your own crops. Fresh fruit that is available for picking at different times throughout the season include apples, blueberries, strawberries, cherries, peaches and nectarines. In the fall, pumpkins are also available for picking.
Parlee Farms is also pleased to announce the launching of its new website (http://parleefarms.com/) to coincide with the start of the 2014 season. The website has a fresh new look and navigation to make it easy for visitors to find the information that they are looking for on the website. The design is responsive, so that the website can be easily viewed on any mobile device. The "Today's Farm News" page (http://parleefarms.com/farm-news/) is updated on a daily basis so patrons know what is available for picking on that day before heading to the farm.
Strawberry picking season has begun and lasts until mid-late July. The strawberry fields at Parlee Farms cover over eight acres with many different strawberry varieties available for picking including 5 "June Bearers": Jewel, Mayflower, Valley Sunset, Cavendish, and All-Star. Cherries are the second fruit of the season available for pick your own. Cherry picking at Parlee Farms will begin on June 29th! For those customers that are unable to pick, fresh picked fruit is available in the Farmstand.
Parlee Farms offers many attractions for visitors to enjoy while spending a day at the farm. Mary's Country Kitchen, the award winning bakery at Parlee Farms, offers tasty treats related to each picking season as well as ice cream. All of the bakery items are made from scratch in small batches. Annie's Animal Barns are filled with young farm animals to feed and pet including baby goats, sheep, chickens, and bunnies. Parlee Farms offers school field trips by reservation.
To learn more about Parlee Farms, please visit http://parleefarms.com or https://www.facebook.com/parleefarms.