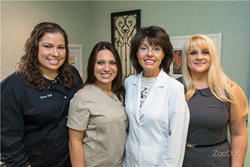 We all know that complimenting or rewarding a job well done will actually prompt more of those good activities
Parlin, NJ (PRWEB) February 18, 2015
Parlin NJ dentist, Dr. Mariana Blagoev believes that encouraging kids to do good deeds will teach them to be kind and compassionate when they grow up. It will be easier for them to separate right from wrong and to make them a better person.
"We all know that complimenting or rewarding a job well done will actually prompt more of those good activities" says Dr. Blagoev.
That said, Dr. Blagoev recently launched a Good Deed Contest which will end on April 30th, 2015. The contest is open to any youth 18 years of age and under.
Children are urged to join the Good Deed Contest by submitting an essay about a good deed they have accomplished. Kids can submit their essay online by going to: http://brightsmilesdental.com/index.php/parlin-dentist-sponsors-a-good-deed-contest/
Dr. Blagoev will be giving away a brand new laptop to the winner who submits the best essay.
According to Dr. Blagoev, "We all have a vested interest in providing a stable foundation of moral values to our youngsters."
Dr. Mariana Blagoev believes there is no greater joy for a parent than knowing that their children are on the right path. The contest rewards Good Deeds done by children and teenagers to encourage them to make the right choices in life. 
This is one of the many events Dr. Blagoev has done for her community. Currently, she is holding an "We Love Our Seniors Day" event. On Feb. 18 and March 11, 2015 seniors 60+ are invited to take advantage of dental cleaning, exam and full mouth x-ray for only $49 (regularly priced at $315).
Details of Dr. Blagoev's community events can be found online at: http://brightsmilesdental.com/index.php/category/community/
"People helping people have been one of the prominent strengths of our country. I love to serve my community in more ways than just dentistry." Dr Blagoev smiled.