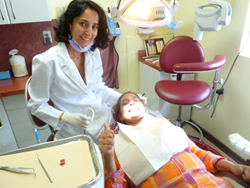 I am fortunate to have a job that entails bringing smiles to patients on a daily basis by helping to rid them of pain and improve their oral health
Parlin, NJ (PRWEB) November 04, 2014
Parlin dentist Mariana Blagoev of Bright Smiles Dental recognizes the need for dental care, particularly among the less fortunate in her community that cannot afford it.
"It saddens me to know that so many people in my community are forced to forgo proper dental care due to financial constraints; they are left to live in pain and discomfort that could be eliminated with a short visit to a qualified dentist," said Dr. Blagoev.
In an effort to play her part in making the lives of the less fortunate around her a little more bearable this holiday season, she is sponsoring a Free Dental Emergency Treatment Day, which will be held on November 18th, 2014.
Emergency dental treatment will be provided throughout the day at no cost on a first-come first-served basis. The event is open to residents of Parlin and the surrounding areas, as well as anyone else in need of dental emergency services.
"I am fortunate to have a job that entails bringing smiles to patients on a daily basis by helping to rid them of pain and improve their oral health as well as their appearance," said Dr. Blagoev.
"I would like to extend my services to those who cannot afford care." she added.
This is not the first free dental day that the Parlin dentist has sponsored. She held a similar event last year that saw patients drawn from the surrounding neighborhoods as well as outside the community.
Patients who received treatments in last year's free dental day were surprised at the degree of care that Dr. Blagoev gave each patient.
The Parlin dentist is also involved in other community events, such as the Good Deed Contest through which she inspires young people to do give back to their community. Her "Nominate a Hero" campaign encourages locals to give recognition to people in the community who perform random acts of kindness.
Dr. Blagoev is proud to serve the residents of Parlin, South Amboy, Sayreville, Madison Park and the surrounding cities. For more details on the Free Dental Emergency Day, visit http://BrightSmilesDental.com/.