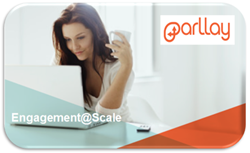 Parllay is an audience-centric and knowledge-graph driven platform that fuses semantics and social media with emerging advertising fundamentals.
Seattle, WA (PRWEB) November 14, 2013
Starting today small and medium size businesses will have access to Parllay's sophisticated enterprise-level capabilities for a fraction of the cost. Parllay's audience centric platform re-imagines the way businesses use social media tools to acquire, engage, retain and monetize their fan base.
Businesses of all sizes struggle with finding the right social media tools, due to product fragmentation at the lower-end of the market and high cost of advanced solutions at the high-end of the market. Parllay solves the problem of fragmentation and high cost with its unified portfolio of platforms, making it a one stop shop for all social media management tasks.
Parllay core capabilities include:
· Semantified Stream Management: Visual dashboard to manage brand conversations across all social channels. Integrated in-stream listener to monitor, analyze, engage and discover topic trends and conversations;
· Brand Advocacy and Consumer Loyalty: On-demand, customizable, and gamified programs to activate fans, empower brand advocates and increase sales by recognizing customers for their participation with a brand and for their influence;
· Social Intelligence and Semantic Exploration of Content: in-depth campaign performance reports. Instant discovery, extensive listening capabilities with rich topic profiling and visualization;
· Advanced Audience Intelligence and Targeting: Interactive templates to create and publish campaigns and promotions across multiple social and mobile distribution channels dynamically retargeting users based on their past engagements and audience profiles;
· Parllay Audience Network - opt-in, always on, gamified, and on demand marketplace for brand engagements and consumer rewards.
"Parllay is advancing the paradigm by enabling audience-centric and knowledge-graph driven platforms that fuse semantics and social media with emerging advertising fundamentals," states Parllay CEO & Founder, Tarek Najm.
"Parllay has the potential to disrupt the social media industry," says Maria Dykstra, Digital Media Strategist at TreDigital, "Parllay's multiplatform publishing, rich listening and semantic capabilities coupled with integrated audience network, advocacy and loyalty programs were previously only available to Fortunate 500 companies."
"Parllay extends the power of semantics and knowledge discovery to social media," states Parllay Chief Data Scientist, Dr. Ying Li. "Parllay's focus on semantic processing of data is a logical extension of the direction the Search Industry is taking, in particular Google's focus on knowledge." Dr. Ying Li, who is also a Director at ACM SIG KDD, is an accomplished scientist and world renowned expert in the field of data mining. She covers advanced algorithms and user experiences, two key elements at the core of Parllay's design. Dr. Li's speaking engagement during her recent trip to Beijing is a part of the Parllay planned expansion to China.
To join Parllay's Public Beta, visit http://parllay.com, or connect with Parllay on Twitter (@Parllay) and Facebook (https://www.facebook.com/parllaybrands).
About Parllay
Parllay, the Unified Audience Engagement Platform, was first introduced in a limited beta release in 2012 by a team of former Microsoft big data executives. It was created as a multi-platform social intelligence and marketing cloud for small and medium size businesses. Parllay provides businesses with the ability to manage an entire Social Media Marketing Campaign from a single unified platform: promotions and sweepstakes, stream monitoring and sematic listening, advanced audience targeting and modeling, as well as advocacy and loyalty programs. Parllay's mission is to democratize the social media management industry by providing the next generation of sophisticated solutions at a fraction of the cost.