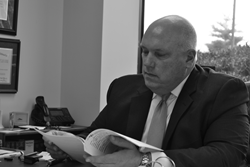 Charlotte, North Carolina (PRWEB) April 03, 2014
In October 2013, Phil Summa, moved his Intellectual Property Law Practice to join Kevin Parsons and in February, the firm moved to beautiful new offices on the top floor of the Brixham Green One building in the prestigious Ballantyne Office Park.
For nearly twenty years, Parsons has represented and advised employers ranging from the very large to small businesses in virtually every form of employment and labor matter. He started his Charlotte career as a judicial clerk to the late Robert D. Potter, and is admitted in both North Carolina and Georgia (inactive). He is also admitted to multiple Federal district and appellate courts. Kevin has been designated a SuperLawyer™, is AV rated by Martindale Hubbell, and has been a member of the business North Carolina Legal Elite. Kevin was a four-year letterman in football at the University of Nebraska, and obtained his law degree at Notre Dame University where he was editor-in-chief of the Journal of Legislation.
Summa, who is considered to be one of the best Patent Attorneys in the Southeast, is well known in Intellectual Property circles. He has been included in the Legal Elite Hall of Fame for Business North Carolina magazine and has been designated a Super Lawyer™, and a "Best Lawyer" for over 10 years. He is also "AV" rated by the Martindale Hubbell for over a decade. He holds a Bachelor's degree in Chemistry from Gettysburg College, a Master's degree in Chemistry from North Carolina State University, and his J.D. from Campbell University.
Summa also serves on the Volunteer Board of Directors at The College of Sciences at North Carolina State University and is a recipient of the PAMS Medal of Achievement (also from NC State) in 2007. He has served as a Member of the Mecklenburg County Board of Elections from 2003 -2007, is a past Chairman of the Board of Managers at the Morrison Family YMCA at Ballantyne, and is a recipient of the YMCA's George Williams Award for the branch.
Parsons and Summa are joined by associate Phil Hinson, a graduate of Wake forest University and the Norman A. Wiggins School of Law. He served as judicial clerk to the Hon. Graham C. Mullen in the Western District of North Carolina. Hinson has been named a member of SuperLawyer's™ Rising Stars: 2014"
Summa's IP-experienced paralegal Beth Barnhart, who has a decade of experience in supporting an IP practice, also joined the firm to complement Vickie King, Parsons' longstanding paralegal.