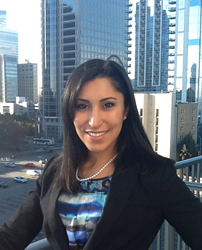 Becky brings her unique skills and background to the firm and is expected to rank among the region's finest lawyers in keeping with her excellent academic record. Phil Summa, Parsons Summa
Charlotte, NC, (PRWEB) November 13, 2014
Clearly, the byproduct of the union of Charlotte attorneys Phil Summa and Kevin Parsons in September, 2013 has been growth, starting with the February opening of the Parsons Summa offices in the Ballantyne Corporate Park. Recently Parsons Summa, which offers expertise in the areas of Intellectual Property Law and Labor and Employment Law, announced the strategic addition of Rebeca Echevarria Harasimowicz, graduate of Mount Holyoke College and Wake Forest University School of Law. Rebeca joins the firm's Intellectual Property effort as Law Clerk, as she prepares for the February 2015 North Carolina Bar Exam.
"Becky brings her unique skills and background to the firm and is expected to rank among the region's finest lawyers in keeping with her excellent academic record," comments Summa.
In 2013, Harasimowicz was named Chair of the prestigious Stanley Moot Court Competition at Wake Forest. As a student, Harasimowicz also served as President of the Hispanic and Latino Law Student Association, as well as Judicial Intern for the Honorable Judge Jimmie V. Reyna, U.S. Court of Appeals for the Federal Circuit in Washington, D.C. Rebeca served as Student Bar Association (SBA) President during law school and in addition to her law degree, Harasimowicz was a triple major at Mount Holyoke, including Biomedical Ethics. She is fluent in Spanish and proficient in Korean.
Both partners are confident that Harasimowicz is up to the task of meeting the expectations of the highly respected Parsons Summa name in the law community. Both Summa and Parsons have received the prestigious designation of Super Lawyer™ again for 2015. In addition, both men have been named to the "Legal Elite" Hall of Fame for Business North Carolina magazine. US News and World Report has named Phil Summa a "Best Lawyer" for the fifth straight year and the firm as one of its "Best Law Firms." Employment and labor litigator Phil Hinson of Parsons Summa has been named a SuperLawyers® "Rising Star" for both 2014 and 2015.
About Parsons Summa
Partners Kevin Parsons and Phil Summa joined forces in 2013 to bring the region the best possible representation in the areas of Labor and Employment Law and Intellectual Property Law. Labor and Employment services have been offered with excellence by Parsons for over two decades. Parsons has been named as both a SuperLawyer® and as a member of the North Carolina "Legal Elite" by Business North Carolina magazine. The firm's Intellectual Property Law services are headed by the highly respected and accomplished Phil Summa. Together, these partners and their hand selected associates seek to meet the legal challenges of clients with assertive, practical, common sense, creative, and cost-effective responses. The offices of Parsons Summa are located in the Ballantyne Office Park, 15801 Brixham Hill Avenue, Suite 550, in Charlotte, NC. Contact partners Phil Summa or Kevin Parsons, through the ParsonsSumma.com website.