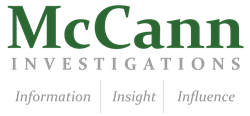 There are so many different complications that impact investigations into partnership embezzlement.
Dallas, TX (PRWEB) January 24, 2014
McCann Investigations, a firm specializing in digital security and private investigations throughout the state of Texas, announced the expansion of its embezzlement investigations with its newly added partnership investigations services in Dallas.
This particular form of embezzlement involves a shareholder or partner in a company who is accused of taking advantage of his or her control of assets and converting them to use for personal gain. Because the crime can affect so many people within a company, partnership embezzlement often yield messy civil lawsuits in addition to the criminal proceedings that take place for the person charged with the crime.
"There are so many different complications that impact investigations into partnership embezzlement," said Daniel Weiss, Managing Partner at McCann Investigations. "These services help law enforcement officials, businesses and accused parties to uncover the truth in the situation."
This truth is extremely important, as many times, embezzlement investigations hinge on the evidence uncovered in devices such as smart phones, computers, data storage devices and more. McCann's investigators go through rigorous training processes to ensure they understand how to work through these challenges and find the evidence in a given case.
In some circumstances, McCann's digital security analysts may also be requested to act as expert witnesses in court to explain the evidence they've uncovered to judges and juries. These analysts are capable of explaining this evidence in a way that is easily understood by people who do not have the same level of technical knowledge that is necessary to become a digital forensic examiner.
"Without a skilled examiner like those from our firm, you're taking a big risk of not finding hard evidence about the source of the embezzlement," said Weiss. "Our Dallas examiners are dedicated to uncovering the truth and are experts in their field."
For more information about the services provided by McCann Investigations in the Dallas area, visit the company's website at http://www.mccanninvestigations.com and follow the company on Twitter at @mccangi.
About McCann Investigations
McCann Investigations is a Texas-based private investigations practice focused on comprehensive investigations incorporating digital forensics, surveillance, undercover work and background checks for clients in various case types. Service areas include intellectual property theft, non-compete enforcement, fraud, embezzlement and family law. McCann Investigators are experts in the latest computer forensics tools and are licensed with the state of Texas. McCann examiners have provided expert testimony and reporting in hundreds of cases across the state.