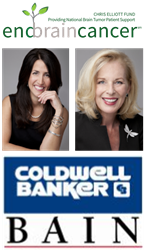 Redmond, WA (PRWEB) December 06, 2013
Coldwell Banker Bain real estate agent Anastasia Miles & Michele Schuler have formed a unique partnership with the Chris Elliott Fund, an organization providing brain tumor patient and family support nationwide.
Each time a Chris Elliott Fund member, friend or relative of a member buys or sells a home with Coldwell Banker Bain Real Estate agent Anastasia Miles or Michele Schuler, Anastasia, Michele and Coldwell Banker Bain will donate an amount equal to 10 percent of their commission to the Chris Elliott Fund. This is part of the Coldwell Banker Bain Community Partnership Program.
Coldwell Banker Bain established its Community Partnership program as a way for the company and its agents to give back to the organizations that are committed to the welfare of their communities. Since the program was created in 1988, Coldwell Banker Bain agents have donated more than $1.36 million to over 600 non-profit organizations in the Puget Sound area.
To find out more about the program or request a referral for this program, please visit the Chris Elliott Fund Website at http://chriselliottfund.org/get-involved/get-involved-cgpp/.
About The Chris Elliott Fund
The Chris Elliott Fund (CEF) is a brain cancer and brain tumor patient advocacy organization and national 501(c)(3) non-profit with offices in Redmond, Washington. Established in 2002, Chris Elliott Fund's mission is to end brain cancer by expanding patient access to specialists, advanced treatments and comprehensive support programs. The organization and its advocates directly serves 400+ patients and caregivers every month free of charge. CEF is a member of the Society for Neurooncologists, American Association of Neuroscience Nurses, American Cancer Association for Cancer Research, Washington Biosciences Association, among others. If we can help, please contact us at WeCare(at)EndBrainCancer(dot)com.
About Coldwell Banker Bain
Since 1906, the Coldwell Banker® organization has been the premier provider of full–service real estate. The Coldwell Banker system has more than 3,500 residential and commercial real estate offices with over 105,000 sales associates globally. The company is an industry leader in residential real estate, new homes, and luxury properties. For the past 37 years, this legacy of success has been carried on in the Pacific Northwest by Coldwell Banker Bain. Operating as Coldwell Banker Bain in the Greater Puget Sound region and as Coldwell Banker Barbara Sue Seal Properties in the Portland/Vancouver metropolitan area, the company has had the highest volume of any Coldwell Banker affiliate for five out of the past six years. The company consistently ranks among the Top 10 Real Estate Companies in the nation as cited by Realtor Magazine and National Relocation & Real Estate Magazine.