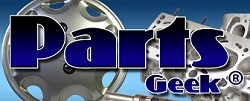 We offer unbeatable discount prices on domestic and import auto parts and accessories
Los Angeles, Ca (PRWEB) August 31, 2013
Parts Geek, a leading supplier of discount auto parts and accessories, announces that the company reached a record amount of unique visitors to its website during the month of July, as reported by web analytics company Compete.com. At more than 2,400,000 visitors, this represents more traffic than Parts Geek's largest competitor, Auto Parts Warehouse.
This summer has seen an increase in the traffic to the Parts Geek website at PartsGeek.com. June saw an increase of 7.17 percent over visitors from 2012, with a much larger increase of 66.85 percent in July over last year's figures. The entire report can be viewed on Compete.com's website at https://siteanalytics.compete.com/partsgeek.com/.
Parts Geek credits this record month with to the company's commitment to provide unsurpassed customer service, to sell the best quality merchandise and to offer these products at unbeatable prices. The company boats a return rate for quality at better than the industry average and offers a 30-day money back guarantee.
"We offer unbeatable discount prices on domestic and import auto parts and accessories," explains an article on the Parts Geek website. "Choose from millions of new, OEM, performance, aftermarket, and rebuilt discount auto parts online from trusted high quality manufacturers. We sell the same name brand automotive products just like you would find in all your local auto parts stores."
Parts Geek carries over 10 million parts and accessories at up to 80 percent off retail prices. From air filters to drive shafts to taillights, Parts Geek offers high quality parts for nearly every make and model. The online shop carries such sought after brands as AEM, Gibson, Edelbrock and Magnaflow.
Parts are shipped from auto part warehouse locations through the U.S., so shoppers receive their parts and accessories fast. Additionally, most orders are shipped the same day from an inventory of parts and accessories that is updated daily.
About Parts Geek:
Founded in 2002, Parts Geek offers the best and most competitive prices on millions of imported and domestic car parts and accessories. They carry new automotive parts, refurbished/rebuilt parts and more from reliable and certified manufacturers. All orders are fulfilled quickly from warehouses across the United States and come with a 30-day money back guarantee. For more information, visit: http://www.partsgeek.com/.