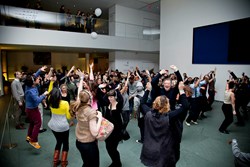 We get the same reactions from small event DJs to Fortune 500 corporations - silent disco is a must-try.
Ithaca, NY (PRWEB) September 10, 2013
On September 10th, 2013, Party Headphones of Ithaca, NY and the National Association of Mobile Entertainers(N.A.M.E.) of Philadelphia, PA announced they will be partnering to promote a new entertainment concept called silent disco. The partnership will allow N.A.M.E. members to enjoy exclusive vendor discounts on Party Headphones' technology, making it more available to mobile entertainers in the United States.
For those who are not familiar, silent disco is a fast growing event concept where instead of listening to music through speakers, audio is played directly to wireless headphones worn by the audience. The events started in Europe and have been growing rapidly in the United States over the past 4 years.
"If you think silent disco sounds ridiculous, it is. But people love it," said Jacob Reisch, CEO at Party Headphones. "We get the same reactions from small event DJs to Fortune 500 corporations – silent disco is a must-try."
The partnership comes in conjunction with Party Headphones soon to be announced Vendor Program developed for DJs, event planners and production companies interested in offering silent disco to their clients. By offering exclusive discounts to members of NAME, Reisch hopes to have silent disco available in every major city by the end of 2014.
"N.A.M.E. is an authority in the entertainment industry and we're tremendously excited to be working with them," Reisch remarked. "With their industry influence and our technology expertise, we know this is a great fit."
The technology for these events is easy to use but requires specially designed radio frequency transmitters to function properly. The standard system allows users to connect any audio source to a transmitter, which then broadcasts the signal to all the headphones within 300 feet.
"Silent disco is a concept that is making its way across the US. Party Headphones has created a way to offer safe, affordable and quality equipment so consumers and entertainment professionals can join in on the wave of silent disco popularity. Partnering with Party Headphones was a natural fit for NAME as we try to create the most valuable and up to date benefits for our members," said Steve Gomez, Director of Marketing for NAME.
About N.A.M.E.
The goal at NAME is to provide as many cost saving benefits to members as possible, but also to advertise and promote NAME members to the consumer, provide educational opportunities and act as a business resource for members. The essence of NAME is to provide mobile entertainers access to all the tools they need to build, grow and sustain their businesses while raising the level of professionalism in the mobile entertainment Industry. NAME also supports many affiliated and unaffiliated regional groups as possible. It is our belief that regional networking groups provide stability, education and overall professional awareness to the mobile entertainment industry.
About Party Headphones
Party Headphones specializes in helping people host silent disco events by providing premier wireless headphone technology. Visit partyheadphones.com for more information on silent disco technology.