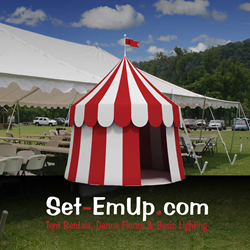 Let Us Setup Your Next Event or Party!
Nashville, TN (PRWEB) March 23, 2015
Serving the greater Nashville area including southern Kentucky and Middle Tennessee, Set-EmUp Tent Rentals announces its new website for services of wedding and party tent rentals. The Nashville tent rental company totes a 10 year plus track record of experience and satisfied clients.
Set-EmUp.com offers friendly and professional consultation, delivery and setup for the best tent rental options addressing the needs for every important event. Tents provide protection from the elements so each event can proceed regardless of rain, cold, or extreme heat.
The tent rental company operates out of Greenbrier, TN and is owned and operated by Dan Smith. Set-EmUp.com Tent Rentals will help guide clients through each aspect in the event planning process offering advice and service options to help clients select the right tent rental for each event. Set-EmUp.com has helped with a variety of events and celebrations from weddings, graduations, and birthdays to fundraisers, estate sales, and auctions. Set-EmUp Party Tent Rentals offers tents in a variety of sizes and configurations at reasonable prices. Set-EmUp.com also offers additional options that can include tables, seating, linens, DJ, and sound systems. The Nashville tent rental company can facilitate all sizes of events. Set-EmUp.com has added even more to its options to include dance flooring, and lighting to transform the atmosphere of any tent into something truly unique. Friendly and affordable! Set-EmUp.com can help select the right tent for each and every event.
Tags: Tent Rental Nashville, Party Tent Rentals Nashville, Party Tent Rentals
Site designed by: GoHooper.com a Nashville Web Design Company