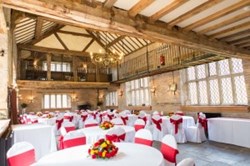 Wedding Venue Manchester
Manchester, UK (PRWEB) November 14, 2013
The Old Grammar School in Middleton - one of north Manchester's finest historical buildings, has been given a new lease of life as a quintessential venue for weddings and parties.
The historic Lancashire building can trace its history back to 1412 when it started out as Thomas Langley's Parish School and it later became Queen Elizabeth's Grammar School in 1586 - granted letters of patent by Queen Elizabeth I herself.
Upon closing in 1909, the building was used for a number of charitable purposes before it fell into disrepair. However in 1997, a grant from the National Heritage Lottery Board and English Heritage meant that the charming old school could be restored to its former glory.
Now the Old Grammar School has come of age and stands as a beautiful venue, with the company who own the building recently expanding their portfolio to hold weddings, private parties and corporate events on the grounds.
A spokesperson for the Old Grammar School said: "We're very fortunate that the building has been restored to such a high standard; this is something that our clients frequently mention. Just stepping over the threshold transports you back to the days when it was used as a village school - some 600 years ago!"
The grade two listed building makes it an appealing wedding venue in Manchester for those people who seek timeless romance on their special day, something which has seen a rise since programmes such as Downton Abbey began airing on television.
The spokesperson continued, "We're finding a lot of people looking for party venues in Manchester that have the 'wow' factor that history provides; when people come to see us they tell us that we're a hidden gem and that they can't wait to hold their special day on the site."
About the Old Grammar School
The Old Grammar School in Middleton is quickly becoming one of the most sought after party venues Manchester has to offer. The grade two listed building has history stretching back over 600 years, and is now used as a venue for wedding celebrations, private parties and corporate events. The website for the Old Grammar School can be found at http://www.partyvenuesmanchester.co.uk.