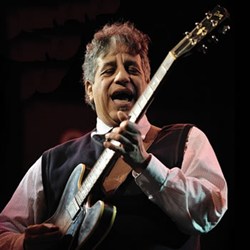 The entire lineup for August and September can be found on the Biscuits & Blues website: http://www.biscuitsandblues.com/lineup.html
San Francisco, CA (PRWEB) July 23, 2013
Biscuits & Blues is excited to announce their live performances for August and first week of September. Known for the talent on their lineups and their intimate venue space, Biscuits & Blues is known nationwide as the best place to catch live blues music.
Before looking to August, there are couple great shows to close out July.
On Sunday, July 28, the singer-songwriter, Candye Kane will take the stage for two great shows, 7 p.m. and 9 p.m. She has been included in the Rolling Stone Guide to Jazz and Blues, Elwoods Blues by Dan Aykroyd, The Blueshound Guide to Blues, Allmusic and other blues books and periodicals. Tickets for the show are $20.
On Wednesday, July 31, the Southern blues-rocker Tinsley Ellis closes out the month of July, performing two shows; 8 p.m. and 10 p.m. Over the course of 11 albums and literally thousands of live performances, Ellis easily ranks as one of today's most electrifying blues-rock guitarists and vocalists. Tickets for the show are $24.
On Thursday, August 1, at 8 and 10 p.m., Biscuits & Blues is featuring Deanna Bogart. She is an award-winning multi-instrumentalist and multifaceted musician whose fans value the diversity of her genre-free zone. Deanna combines the best of boogie-woogie, contemporary blues, country and jazz into a splendid blend she calls "blusion." Tickets for her show are $20.
On Friday, August 2, Samantha Fish will play at 8 and 10 p.m. With Runaway, her solo debut, she breaks out big time, announcing herself as a newcomer to be reckoned with. In fact, it's not all that long ago that the 22-year-old singer/guitarist first discovered the blues. Her vocals are cool, confident and nothing less than beguiling. Tickets for her show are $20.
On Saturday, August 3, E.C. Scott will be on stage at 7:30 p.m. and 10 p.m. Music industry legend Jerry Wexler, co-founder of Atlantic Records, called E.C. Scott "one honest-to-God soul singer." High praise indeed from the man who produced Aretha Franklin, Ray Charles, and Wilson Pickett! She can mesmerize a crowd down to a whisper or rock them into a loud frenzy. Tickets for E.C. Scott are $20.
On Thursday and Friday, August 8 and 9, Dave Keller will take the stage with an opening performance by Kevin So at 7:45 p.m. and 10 p.m. Dave Keller is one of the finest soul and blues men of his generation. He is the 2012 winner of the Best Self-Produced CD award at the Blues Foundation's International Blues Challenge (IBC) in Memphis, TN. Far from an overnight success, Keller has paid his dues the old fashioned way: performing at hundreds of venues, and giving every show his all, for over close to 20 years. Fans all over the world have caught on to So's lyrical truths and his knack for engaging people through his music, intense storytelling, and foot stomping performances. Tickets for these shows are $20.
On Sunday, August 17, Guitarist, singer and songwriter Albert Castiglia takes the stage at 7 p.m. and 10 p.m. His first big break came about when legendary harmonica player Junior Wells heard him sing and play and immediately hired him for his touring band. Tickets for his show are $20.
On Friday, August 23, Singer/songwriter Mighty Mo Rodgers joins Biscuits & Blues for two shows at 8 p.m. and 10 p.m. Rodgers combines soulful, gritty vocals and driving rhythms with a wholly personal panorama on songs like "Took Away The Drum," "The Kennedy Song," "Tuskegee Blues" and a moving tribute to his childhood friend with "Willie B. And Me." Tickets for his show are $22.
On Saturday, August 24, the electrifying Chris Cain takes the stage for two shows at 7:30 p.m. and 10 p.m. Chris Cain's jazz-tinged, blues soaked guitar and deep, warm vocals have the maturity and authenticity of bluesmen many years his senior. His passion and intensity are a blend of his mother's Greek ancestry and his father's soulful black heritage. Tickets for his show are $20.
On Sunday, August 25, a special Jazz show by Roberta Donnay at 7 p.m. & 9 p.m. She sings with the spontaneity, honesty and individuality of the best jazz vocalists. A colorful and passionate performer, she is a joy to see in concert and to hear on records. In her multi-faceted musical career, Donnay has won numerous awards for her work as a singer/songwriter. Tickets for her show are $15.
On Wednesday August 28, Red House recording artist Ray Bonneville takes the stage at 8 p.m. & 10 p.m. Ray's vibe is loose and soulful. With a greasy guitar style, horn-like harmonica phrasing, smoky vocal style and pulsing foot percussion, he immediately rivets audiences. He has a loyal, enthusiastic fan base wherever he goes. Tickets for his show are $15.
Throughout August, guests of Biscuits and Blues can catch plenty of talented artists at Biscuits & Blues, including Samuel James, Lavay Smith, The Ray Charles Project, Frank Bey, Paula Harris, and Earl Thomas.
On Wednesday, September 4, Southern Hospitality will be on stage at 8 p.m. & 10 p.m. The three artists are musician's musicians, each bringing a unique style and fresh translation of the great Southern soul, blues, and rock music that came before them. Together, their mutual chemistry, high energy and skill sets create a cohesive vision, with echoes of Muscle Shoals and Macon that organically flows together into an entirely original and dynamic form of Americana, Southern soul roots music with a modern sensibility. Tickets for this show are $20.
On Thursday & Friday, September 5 and 6, Lucky Peterson will take the stage at 8 p.m. and 10 p.m. Lucky Peterson is the most dangerous triple threat working in the blues. A searing lead guitarist, fantastic organist, and first-rate vocalist, Lucky's many talents are truly mind-boggling. Tickets for these shows are $20.
The entire lineup for August and September can be found on the Biscuits & Blues website: http://www.biscuitsandblues.com/lineup.
Biscuits & Blues is also featuring new menu items. Start off the night with an appetizer like catfish fingers and jalapeno tartar sauce or the Cajun fried calamari. Some of the new entrées include grilled catfish and braised pork shank. Complete the meal with a scrumptious blackberry peach cobbler.
To plan a fantastic night full of blues, a delicious meal and cocktails, please visit the Biscuits & Blues website.
About the company:
Biscuits & Blues is a full restaurant, bar, and nightclub and one of the reasons why San Francisco is on the map for music lovers. Located at 401 Mason St. at Geary, they have been voted America's #1 Blues nightclub by the Blues Foundation and the Bay Area Blues Society. It is San Francisco's home to great live music in an intimate setting, where everyone gets a front row seat. Biscuits & Blues features savory award-winning Southern-style cuisine, California wines, micro-brews, and specialty cocktails – all at reasonable prices that please tourists and our loyal Bay Area clientele. Biscuits & Blues is also an event venue for parties. They can host everything from office parties to family reunions. For more information and current lineup, please visit their website.