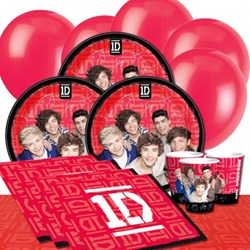 We are making special arrangements to ensure that we have the stock available to meet this extraordinary demand
(PRWEB UK) 9 September 2013
Partycare expect interest in their One Direction themed range of party goods and accessories to increase significantly in the wake of the British boy band's first film, This Is Us, which topped the UK and Ireland box office chart this week. The range, which includes paper plates and cups, banners and balloons, has already proven popular amongst fans of the British boy band whose fame has soared since they placed third in the seventh season of The X Factor in 2010. Customers can purchase the One Direction party range online from http://www.partycare.co.uk/kids-party-supplies/themes-one-direction.html.
Partycare's Online Marketing Executive Nizam Yusuf commented on the success of the range: "Our One Direction themed goods have consistently shown very strong sales as they are obviously of great interest to our target demographic. We have already seen increased interest in August with the coverage of their success at the Teen Choice Awards in America, and with the band's current worldwide tour being a sell-out success and the release of This Is Us, we only expect this rise in interest to continue. As a result we are making special arrangements to ensure that we have the stock available to meet this extraordinary demand."
Established in 2006, Partycare is a Manchester based company specialising in the online retail of birthday party supplies, party decorations and fancy dress costumes to parents looking to provide their children with a memorable birthday experience.
Mr Yusuf continued, "The One Direction brand is very strong, even drawing comparisons with the Beatles due to the extreme level of interest that they generate on both sides of the Atlantic. We are very pleased to be able to include their brand within our range, alongside perennial favourites such as the Disney and Hello Kitty ranges, to ensure that parents can continue to provide their children with parties to remember."
For more information on Partycare or to browse their range of products, visit their website at http://www.partycare.co.uk.