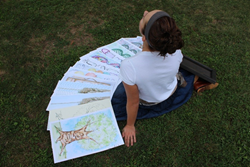 KEE Kreations, LLC announces the launch of the company's new website
Sacramento, PA (PRWEB) October 02, 2014
KEE Kreations is known for creating memorable and unique Interactive Art used as party ideas that are personalized by the owner of the print. In existence since 1985, KEE Kreations has now expanded to provide over 16 different party idea prints to our customers. These Interactive Art prints offer a variety of ways to record memories for occasions such as weddings, retirement celebrations, birthdays, travels, hunting trips, cabin logs and wine trail adventures. Each print is a copy of an original painting. The artwork is then reproduced and ready to be used as party ideas, signature posters, adventure logs, or journals, and hung on the wall for display.
The new website is a key tool for customers all over the globe to view and purchase our party ideas prints, memory logs and journal prints which are specialized products. Features that are not to be missed on our website are the action slider print of the Rooms in My Heart, found on the Home page, and YouTube videos demonstrating the use of our Interactive Art at a wedding and birthday party.
Our new website states our goal, which is to display professionalism, integrity and provide quality products designed to be socially useful, as well as being aesthetically pleasing to our customers. Beyond being pleasing to the eye, KEE Kreations wants these prints to have lasting personal meaning for their customers.
KEE Kreations' new website has also ushered in the use of our connection with Facebook, LinkedIn, Twitter, Google + and other social media links.
For more information regarding KEE Kreations' Interactive Art and our party idea prints visit http://www.keekreations.com or email Karen Erdman at karen(at)keekreations(dot)com
Media Contact
Karen Erdman
karen(at)keekreations(dot)com
http://www.keekreations.com
570.682.8402