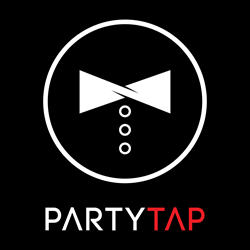 The Uber of Party Staffing
Miami, Florida (PRWEB) January 18, 2017
Ever wish there was an easier way to hire staff when planning a party or event? With the inception of PartyTap App in Miami, a new app-based approach to party staffing, the perfect party is just a tap away. This revolutionary new technology is shaking up the party game and making elaborate get-togethers of any sort a vastly more seamless process.
PartyTap App is the easiest way to find, book, and pay for high quality party services through a mobile app. Currently PartyTap offers DJs, photographers, bartenders, wait staff, and clean up. The startup is a two-sided marketplace that connects Customers, people looking party services, with party staff, a network of pre-approved and background checked individuals, who have the time and skills needed to complete a party. Our network consists of nearby talented freelance party staff who offer their services during the gaps in their schedules that would otherwise yield zero income. These services are available on-demand or can be scheduled days or months in advance.
PartyTap, the Miami based app will focus on connecting high quality staff with potential party hosts. The app user simply needs to select the date of the party, time, number of guests, and our app handles the rest. The app is sleekly designed to make the process a breeze and just a tap away for anyone. To ensure billing accuracy, the user will be billed after the party has concluded through a secure, automated system.
PartyTap shares a mutual advantage with all popular mobile platforms: its fast, flexible, and convenient. Those that previously couldn't be bothered with the hassle of tracking down the necessary party staff will have an answer to their problem and will begin the prospect of planning parties and hiring staff much more appealing. It can sometimes be very expensive to hire through event planners and PartyTap changes that for everyone. The CEO of PartyTap Jordan Hamilton says "The vision and goal of the app is to revolutionize an industry that's been around for decades with technology and the best quality people we can find. This will help support local economy and move toward the future in on-demand products and services."
The benefits go beyond the convenience on the consumer end. Just as Uber has succeeded at generating business for freelance drivers, PartyTap will be incredibly beneficial to bartenders, wait staff, DJs, cleaners, and photographers whether they are freelance or part of a greater corporate entity. All of these party staff and companies can expect an increased consumer base and an even more consistent source of income.
In essence, PartyTap improves upon the very idea of what it means to plan a party while offering party staff a convenient way to attract new business.
The apps versatility is perhaps what makes it so revolutionary. No matter what event you are planning, PartyTap can ensure that the customers needs are met in an efficient manner. Weddings, small get togethers, kids parties, birthday celebrations, dinner parties, corporate events, and yacht charters are just some of the many possible party types. With PartyTap, any venue and any schedule can be accommodated for any get-together. Having professional party staff at the tap of a finger for any occasion opens up opportunities for both consumers and party staff. This is truly the revolution that party planners and party staff have been waiting for. Fortunately for the customer, our prices are about half the cost of all the competition.
There are numerous precursors to PartyApp that have proven the viability of a convenient, app-based platform. Aforementioned app giants like Uber, Netflix, and Instacart have been fundamental as they have displayed the benefits of an on-demand infrastructure and have paved the way for service apps for more specific consumer needs. These more niche apps have thrived and have thereby shown what kind of potential PartyTap possesses.
For example, consumers are turning to apps like Zeel for massage services, apps like Saucy for liquor delivery, and apps like Washio for dry cleaning services. PartyTap is another step towards this more convenient and accessible direction that the world is headed in. As consumer standards are raised it is only natural that all businesses follow to remain competitive in this technology age.
Suffice to say, the concept for PartyTap is already a reality and has proven to be an extremely successful business structure for both companies and consumers. Whether a party host, business owner, freelancer, or an event planner PartyTap is sure to impress and change the way people celebrate for years to come. Download our app to join the movement!