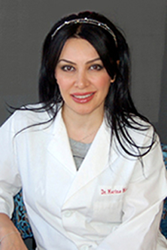 Pasadena, CA (PRWEB) May 26, 2015
Pasadena porcelain veneers dentist, Dr. Marine Martirosyan, is now offering complimentary dental cleanings with cosmetic treatments. Cosmetic dentistry is becoming increasingly popular in today's society.
Cosmetic Dentistry
"We are committed to providing you with the highest level of care, giving you cutting-edge technology, outstanding customer service and a smile of a lifetime … We work with you not only to change your smiles but to change your life," explains Dr. Martirosyan's team. "Giving you a healthy and beautiful smile is our priority." Patients should schedule a consultation with Pasadena porcelain veneers dentist Dr. Martirosyan to determine their candidacy for the procedure, and to review porcelain veneers before and after photos. Qualified patients who purchase at least six veneers will be eligible for the complimentary cleaning, which can ensure they begin treatment with the healthiest smile possible.
Porcelain veneers can improve:

Chipped teeth
Gapped teeth
Crooked teeth
Stained and discolored teeth
Worn teeth
The porcelain veneers cost per tooth is not usually covered by insurance, since it is considered cosmetic in nature. However, patients can take advantage of a variety of financing and payment options to keep payments more budget-friendly.
About Dr. Marine Martirosyan
Dr. Martirosyan is a top Pasadena porcelain veneers dentist. After graduating from USC's dental school, she completed postgraduate training at the prestigious Las Vegas Institute of Advanced Dental Studies. She is committed to advancing dental education, with her knowledge and skills to provide her patients with the best care possible. Today, Dr. Martirosyan is a member of the American Academy of Cosmetic Dentistry, the American Dental Association and the American Academy of Dental Sleep Medicine. She has been recognized for her many contributions and tireless commitment to her patients. Visit http://www.porcelainveneerspasadena.com for more information.