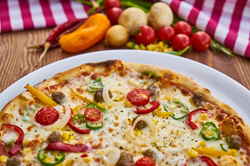 Pizza is the original fun food and it only makes sense that a food associated with having a good time would have some interesting and fun facts in its history.
PASO ROBLES, Calif. (PRWEB) August 09, 2018
Fun Facts About Pizza
1. The first recorded pizzeria, Port 'Alba, opened in 1830 in Naples, Italy. Pizzas were cooked in an oven lined with lava from Mount Vesuvius.
2. Until the 1800s pizza was a meal for Italian peasants. That changed when Raffaele Esposito created a Margherita pizza for visiting royalty. The king and queen were impressed by the colors of the Italian flag represented by the pizza's white mozzarella cheese, red tomato sauce, and green basil and Queen Margherita gave the pizza her name. After that, pizza became an Italian staple.
3. Pizza has its own special day. Well, actually at least three special days. September 5th is National Cheese Pizza Day. October 11th is National Sausage Pizza Day. November 12th is National Pizza with the Works Except Anchovies Day.
The first official pizzeria opened in the United States in New York City in 1905 by Gennaro Lombardi.
4. According to a Gallup Poll, kids up to 11 years old prefer pizza to other food for lunch and dinner. Regular pizza crust is still the most popular crust, preferred by 61-percent of the population. Thick crust and deep dish tied for second, at 14-percent. Only 11-percent of the population prefers extra thin.
5. Every pizza chef has a secret recipe for the best crust and so does Marv's Paso Robles pizza where the dough is made fresh daily and topped with the finest sauce, whole-milk mozzarella and fresh ingredients.
6. According to Guinness World Records the largest circular pizza was baked in Norwood, South Africa in 1990. It weighed 26,883 pounds. There are rumors of another record breaker baked in 1987 in Havana, Florida that weighed 44,457 pounds.
7. The Hawaiian Pizza was invented in Canada.
8. The International Pizza Expo is an annual event held in Las Vegas Nevada. Pizza restaurant owners, distributors, food brokers, and other businesses that support the pizza industry attend. Sorry! The expo is not open to the general public!
9. Pizza museums? Oh yes. The U.S. Pizza Museum is opening in August 2018 in Chicago. New York's Museum of Pizza claims to be the "world's first and only immersive art experience celebration pizza."
10. Can you eat pizza and still lose weight? A New York man named Brian Northrup claims that he did, and he documented the yearlong project on Instagram. In his recently released book, "The Pizza Diet: How I Lost 100 Pounds Eating My Favorite Food—and You can, Too! " Chef Pasquale Cozzolino's reveals how he included pizza in a healthier diet. It all seems to come down to what weight loss specialists have been saying for years: moderation, more vegetables, and less fat and refined carbohydrates.
Pizza is an amazing versatile food. Although there are traditions, diners can add or remove ingredients and personalize their own pizza. Marv's, the Paso Robles pizza and Italian restaurant, has just the pizza on the menu! Both the Vegetarian and the Margherita come on a thinner crust and you can ask for less cheese and more vegetables, or you can build your own low calorie pizza.
Be sure to check for the daily specials. Marv's opens at 11 a.m. and you can order for pickup, delivery, or take the family to the restaurant.
729 12th Street
Paso Robles, CA 93446
(805) 238-1851
This press release is by Paso Robles SEO company Access Publishing, 806 9th Street, #2D, Paso Robles, CA 93446, (805) 226-9890.