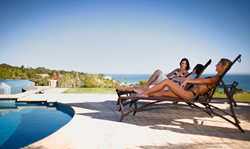 "Prescription medication can be abused, just as easily as illicit or illegal drugs." - Pax Prentiss, CEO of Passages Malibu
Malibu, CA (PRWEB) May 07, 2014
On April 8th, The British Medical Journal published the results of a study that revealed a previously undocumented connection to individuals taking prescription-strength pain medication and the development of an irregular heartbeat.
The study noted that those particularly at risk were middle-aged and older.
NSAID use (short for non-steroidal anti-inflammatory drugs), was monitored in over 8,000 individuals over the age of 55, for 13 years. Participants taking NSAIDS were shown to be 76% more at risk to develop atrial fibrillation, the most common form of an irregular heartbeat.
NSAIDs include aspirin, ibuprofen, and naproxen and are sometimes offered over-the-counter. This particular study only examined the stronger, prescription-strength versions of those medications.
"Prescription medication can be abused, just as easily as illicit or illegal drugs," said Pax Prentiss, CEO of Passages Addiction Treatment Centers. "One of the key tenets of our holistic treatment philosophy establishes that individuals dealing with unresolved past trauma remain at risk for becoming dependent on drugs or alcohol."
Atrial fibrillation (A-fib) is more common among older individuals and can result in stroke or heart failure. A-fib is generally associated with heart palpitations and/or shortness of breath. Whether or not the use of over-the-counter NSAIDs may result in detrimental health effects remains unclear. Individuals taking them should consult their physician with any additional questions or concerns.
At Passages Malibu - Addiction Ends Here™
About Passages Malibu & Passages Ventura:
Father and son team Chris and Pax Prentiss founded Passages Malibu in 2001. Its second location, Passages Ventura, first opened its doors in 2009. The two drug, alcohol, and prescription medication abuse treatment centers offer an alternative to the 12 step/AA model of addiction treatment by utilizing a holistic program that focuses on the underlying issues of substance dependency, rather than attributing addiction to an incurable disease.
Both Passages Malibu and Passages Ventura accept insurance and each have earned the coveted Joint Commission (JCAHO) accreditation, which has only been given to 6% of the nation's behavioral health treatment programs.
Passages Malibu was named the #1 treatment center in the world by Healthcare Global, one of the "Most Luxurious Places to Dry Out" by Forbes magazine, and the Huffington Post recently acknowledged Passages as a center that "caters to a high-end crowd, with many CEOs, entrepreneurs and high-powered professionals among its clients."
The co-founders are also authors of an acclaimed series of addiction treatment books, including their groundbreaking, flagship title, The Alcoholism & Addiction Cure.
For general inquiries about treatment, contact: 866-233-1753.
For media inquiries, contact:
press(at)passagesmalibu(dot)com