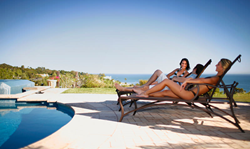 Our treatment team includes experienced professionals who provide a safe detox. - Pax Prentiss, CEO Passages Malibu
Malibu, CA (PRWEB) April 29, 2014
The American Academy of Pain and Medicine issued a new report on March 6th that analyzed more than 3 billion visits by American to their primary care providers between 2002 and 2009. A subsequent analysis of those visits revealed that 12.6% were related to prescriptions for sedatives and narcotic painkillers.
On average, the number of visits related to sedatives and painkillers rose by 12.5% each year.
The trend showed that dual prescriptions for both pain medication and sedatives rose by another 12% each year, and that patients who received prescriptions for opioid painkillers were four times as likely to receive sedatives prescriptions as well.
"Prescription medications have the potential for dependence, especially for individuals who have not yet resolved past trauma," said Pax Prentiss, CEO of Passages Addiction Treatment Centers. "Our treatment team includes experienced professionals who provide a safe detox."
More information in the study revealed that individuals taking both sedative and painkiller combinations comprised 30% of deaths related to prescription medication. The study called for stronger communication between primary care physicians and pain specialists, in order to more safely coordinate patient care.
The study authors also shared concerns over prescription medication and emergency room visits, falls among elderly patients, as well as physical and psychological dependence.
At Passages Malibu - Addiction Ends Here™
About Passages Malibu & Passages Ventura:
Father and son team Chris and Pax Prentiss founded Passages Malibu in 2001. Its second location, Passages Ventura, first opened its doors in 2009. The two drug, alcohol, and prescription abuse treatment centers offer an alternative to the 12 step/AA model of addiction treatment by utilizing a holistic program that focuses on the underlying issues of substance dependency, rather than attributing addiction to an incurable disease.
Both Passages Malibu and Passages Ventura accept insurance and each have earned the coveted Joint Commission (JCAHO) accreditation, which has only been given to 6% of the nation's behavioral health treatment programs.
Passages Malibu was named the #1 treatment center in the world by Healthcare Global, one of the "Most Luxurious Places to Dry Out" by Forbes magazine, and the Huffington Post recently acknowledged Passages as a center that "caters to a high-end crowd, with many CEOs, entrepreneurs and high-powered professionals among its clients."
The co-founders are also authors of an acclaimed series of addiction treatment books, including their groundbreaking, flagship title, The Alcoholism & Addiction Cure.
For general inquiries about treatment, contact: 866-233-1753.
For media inquiries, contact:
press(at)passagesmalibu(dot)com