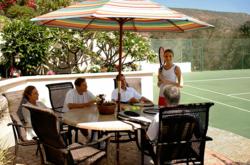 In our work here at Passages, we know that a supportive environment is crucial to staying committed to important life choices. - Pax Prentiss
Malibu, CA (PRWEB) July 02, 2013
Finding ways to spend a historically "wild" holiday weekend might seem like a challenge to many people recovering for drug or alcohol dependency. Statistics show that a great many Americans celebrate our nation's independence under the influence of alcohol, which leads to unsafe conditions on many of our freeways and highways and a noticeable spike in vehicle fatalities.
Passages Malibu recently made public a list of tips to encourage safe fun and a supportive 4th of July celebration environment for individuals who have chosen to abstain from getting intoxicated.
Passages Malibu's Tips for a Safe and Sober 4th of July Weekend
1. Plan the day – There's no need to attend every party you're invited to. Find the crowd who is sympathetic to the healthier choices you've made and stick with them. Attend the party with someone you trust.
2. Connect with family – Supportive family members can offer positive reinforcement at difficult times. Remember that just because someone is related to you doesn't necessarily make them supportive. Surround yourself with people who bring out your best self.
3. Practice the phrase, "No, thank you." – Plato said that we are what we repeatedly do, that excellence, therefore, is not an act, but a habit. Starting new more constructive choices can lead to the formulation of new, more positive habits.
4. Exit strategy – Driving yourself helps, as does attending a party with a "wing person" who is prepared to leave whenever you are.
5. Start a new tradition - Allow yourself to celebrate the holidays in ways that distance you from your old habits. It's your life. Live it in a way that allows you to thrive, even if it's not "par for the course."
"In our work here at Passages, we know that a supportive environment is crucial to staying committed to important life choices," said Pax Prentiss, CEO of Passages Addiction Treatment Centers. "I'm planning to spend the weekend backpacking with family and a few friends. Since making the decision to embrace a lifestyle of clarity, more than a decade ago, it's been very rewarding to develop stronger personal connections. Clients leave Passages empowered and we set them on the path to developing those same kind of solid personal relationships that can last a lifetime."
At Passages Malibu - Addiction Ends Here™
About Passages Malibu & Passages Ventura:
Father and son team Chris and Pax Prentiss founded Passages Malibu in 2001. Its second location, Passages Ventura, first opened its doors in 2009. The two drug & alcohol abuse treatment centers offer an alternative to the 12 step/AA model of addiction treatment by utilizing a holistic program that focuses on the underlying issues of substance dependency, rather than attributing addiction to an incurable disease.
Both Passages Malibu and Passages Ventura accept insurance and each have earned the coveted Joint Commission (JCAHO) accreditation, which has only been given to 6% of the nation's behavioral health treatment programs.
Passages Malibu was named the #1 treatment center in the world by Healthcare Global, one of the "Most Luxurious Places to Dry Out" by Forbes magazine, and the Huffington Post recently acknowledged Passages as a center that "caters to a high-end crowd, with many CEOs, entrepreneurs and high-powered professionals among its clients."
The co-founders are also authors of an acclaimed series of addiction treatment books, including their groundbreaking, flagship title, The Alcoholism & Addiction Cure.
For general inquiries about treatment, contact: 866-233-1753.
For media inquiries, contact:
press(at)passagesmalibu(dot)com