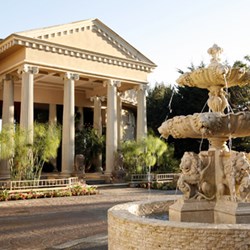 Bath salts is the newest stimulant to hit the streets. News reports of these synthetic substances are troubling and it's often unclear what's actually in them. - Pax Prentiss, CEO Passages Malibu
Malibu, CA (PRWEB) October 01, 2013
The name may sound harmless, but the new designer drug known commonly as bath salts was linked to nearly 23,000 hospital emergency room visits in 2011, according to a report released on September 17th. The report was compiled by the Substance Abuse and Mental Health Services Administration (SAMHSA) and detailed findings on the 2.5 million emergency room visits that involved drug misuse or abuse.
According to SAMHSA's Chief Medical Officer, Dr. Elinore McCance-Katz, "Bath salts can cause heart problems, high blood pressure, seizures, suicidal thoughts, psychosis and in some cases, death – especially when combined with the use of other drugs." 67% of all bath salts hospitalizations included the use of another drug. The term 'bath salts" actually refers to a group of drugs that contain amphetamine-like stimulants, also known as cathinones.
The data in this report was pulled from the 2011 Drug Abuse Warning Network (DAWN), a public health surveillance system. DAWN is meant to help understand the impact of drug use, misuse, and abuse in the United States.
"Bath salts is the newest stimulant to hit the streets," said Pax Prentiss, CEO of Passages Addiction Treatment Centers. "News reports of these synthetic substances are troubling and it's often unclear what's actually in them. In our work here at Passages, we found that the use of stimulants can lead to addiction and often triggers a chemical imbalance in the brain of the user, which can result in unpredictable behavior."
At Passages Malibu - Addiction Ends Here™
About Passages Malibu & Passages Ventura:
Father and son team Chris and Pax Prentiss founded Passages Malibu in 2001. Its second location, Passages Ventura, first opened its doors in 2009. The two alcohol & drug abuse treatment centers offer an alternative to the 12 step/AA model of addiction treatment by utilizing a holistic program that focuses on the underlying issues of substance dependency, rather than attributing addiction to an incurable disease.
Both Passages Malibu and Passages Ventura accept insurance and each have earned the coveted Joint Commission (JCAHO) accreditation, which has only been given to 6% of the nation's behavioral health treatment programs.
Passages Malibu was named the #1 treatment center in the world by Healthcare Global, one of the "Most Luxurious Places to Dry Out" by Forbes magazine, and the Huffington Post recently acknowledged Passages as a center that "caters to a high-end crowd, with many CEOs, entrepreneurs and high-powered professionals among its clients."
The co-founders are also authors of an acclaimed series of addiction treatment books, including their groundbreaking, flagship title, The Alcoholism & Addiction Cure.
For general inquiries about treatment, contact: 866-233-1753.
For media inquiries, contact:
press(at)passagesmalibu(dot)com