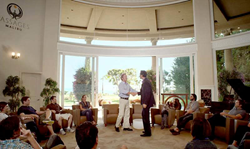 Cocaine use is associated with a range of risky behavior and it clearly has direct health consequences as well. - Pax Prentiss, CEO of Passages Addiction Treatment Centers
Malibu, CA (PRWEB) April 15, 2014
The risk of stoke jumps dramatically 24 hours after the use of cocaine, according to new research presented on February 12th at the American Stroke Association's International Stroke Conference 2014. When compared to other factors such as diabetes, high blood pressure, and cigarettes, acute cocaine use places users at far great risk for having a stroke.
The study compared more than 1,000 stroke victims between the age of 15 and 49 from the Baltimore-Washington D.C. area against 1,000 individuals, of the same age range, from the general population. More than 25% of those in both groups reported a history of cocaine use.
"Cocaine use is associated with a range of risky behavior and it clearly has direct health consequences as well." said Pax Prentiss, CEO of Passages Addiction Treatment Centers. "At Passages, we've found success treating the underlying causes of dependency, which has allowed our clients to return to their daily lives, drug and alcohol-free."
The risk of stroke was similar between African-Americans, as well as Caucasians. A person's history of cocaine use was not as much of a risk factor, though risks increased substantially in the day immediately following the use of cocaine.
Researchers believe that toxicology tests need to be administered more often following stroke, as cocaine appears to play a more significant role than previously understood. Stroke occurs when the flow of blood to the brain is disrupted, and can result is partial paralysis or death.
At Passages Malibu - Addiction Ends Here™
About Passages Malibu & Passages Ventura:
Father and son team Chris and Pax Prentiss founded Passages Malibu in 2001. Its second location, Passages Ventura, first opened its doors in 2009. The two alcohol & drug abuse treatment centers offer an alternative to the 12 step/AA model of addiction treatment by utilizing a holistic program that focuses on the underlying issues of substance dependency, rather than attributing addiction to an incurable disease.
Both Passages Malibu and Passages Ventura accept insurance and each have earned the coveted Joint Commission (JCAHO) accreditation, which has only been given to 6% of the nation's behavioral health treatment programs.
Passages Malibu was named the #1 treatment center in the world by Healthcare Global, one of the "Most Luxurious Places to Dry Out" by Forbes magazine, and the Huffington Post recently acknowledged Passages as a center that "caters to a high-end crowd, with many CEOs, entrepreneurs and high-powered professionals among its clients."
The co-founders are also authors of an acclaimed series of addiction treatment books, including their groundbreaking, flagship title, The Alcoholism & Addiction Cure.
For general inquiries about treatment, contact: 866-233-1753.
For media inquiries, contact:
press(at)passagesmalibu(dot)com