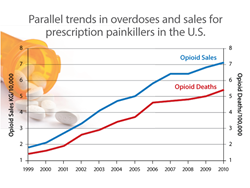 Making prescription medication accessible without a doctor's prescription is dangerous. - Pax Prentiss, CEO of Passages Addiction Treatment Centers
Malibu, CA (PRWEB) October 09, 2013
Legislators from the states of California and Nevada have teamed up to draw attention to listings on CraigsList.org, a popular public website that appears to allow individuals to freely resell prescription medication. The resale of prescription medication is illegal and, perhaps more urgently, the prescription drug misuse problem has reached epidemic proportions in the US with more people perishing from prescription drugs than from all other illegal drugs combined.
The Partnership at DrugFree.org recently released details of letters sent by California Senator Ted Lieu and Nevada Senator Tick Segerblom to Craigslist CEO Jim Buckmaster requesting the removal of listings for prescription medication.
Segerblom said in his letter: "In Nevada and nearby areas, a simple search for such addictive drugs as OxyContin, Vicodin, Adderal, and Xanax reveals numerous advertisements for their sale or trade without the need for a prescription."
Both legislators have warned that if their concerns not addressed in a timely fashion that they will present their concerns to law enforcement officials.
"Making prescription medication accessible without a doctor's prescription is dangerous," said Pax Prentiss, CEO of Passages Addiction Treatment Centers. "Prescription medications like OxyContin are addictive, especially if individuals have a history of unresolved underlying conditions. At Passages, we help our clients empower themselves and overcome their addictions. This often involves working through past issues or correcting a chemical imbalance. Once the underlying issues have been healed, our clients go back to living much more fulfilling lives."
At Passages Malibu - Addiction Ends Here™
About Passages Malibu & Passages Ventura:
Father and son team Chris and Pax Prentiss founded Passages Malibu in 2001. Its second location, Passages Ventura, first opened its doors in 2009. The two drug, alcohol, & prescription medication abuse treatment centers offer an alternative to the 12 step/AA model of addiction treatment by utilizing a holistic program that focuses on the underlying issues of substance dependency, rather than attributing addiction to an incurable disease.
Both Passages Malibu and Passages Ventura accept insurance and each have earned the coveted Joint Commission (JCAHO) accreditation, which has only been given to 6% of the nation's behavioral health treatment programs.
Passages Malibu was named the #1 treatment center in the world by Healthcare Global, one of the "Most Luxurious Places to Dry Out" by Forbes magazine, and the Huffington Post recently acknowledged Passages as a center that "caters to a high-end crowd, with many CEOs, entrepreneurs and high-powered professionals among its clients."
The co-founders are also authors of an acclaimed series of addiction treatment books, including their groundbreaking, flagship title, The Alcoholism & Addiction Cure.
For general inquiries about treatment, contact: 866-233-1753.
For media inquiries, contact:
press(at)passagesmalibu(dot)com