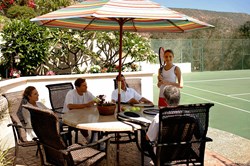 Both parents and young people should know that prescription medication to treat ADHD can be abused, especially if individuals are also dealing with unresolved issues. - Pax Prentiss, CEO Passages Malibu
Malibu, CA (PRWEB) August 21, 2013
A new study published in the Drug Abuse Warning Network on August 8th revealed that nonmedical use of central nervous system (CNS) stimulants is driving more young people to seek medical treatment in emergency rooms across the country. Among young adults aged 18 to 34, CNS stimulants involved with alcohol led to 5,605 ER visits in 2005, but that number increased to 22,949 by 2011, according to details in the report.
Misuse of attention deficit hyperactivity disorder (ADHD) medication like Ritalin, Adderall, and other CNS stimulants are often further complicated by alcohol. The effects of alcohol seem less intense when under the influence of CNS stimulants, raising the risk of alcohol poisoning and/or alcohol related injuries. Nonmedical use this medication has also been linked to heart problems, as well as drug dependence.
"As diagnoses for ADHD have gone up, access to prescription medication seems to be increasing as well," said Pax Prentiss, CEO of Passages Addiction Treatment Centers, "Both parents and young people should know that prescription medication to treat ADHD can be abused, especially if individuals are also dealing with unresolved issues. At Passages, we've worked hard to develop a strategy to effectively heal the underlying issues that often drive addictive behavior."
At Passages Malibu - Addiction Ends Here™
About Passages Malibu & Passages Ventura:
Father and son team Chris and Pax Prentiss founded Passages Malibu in 2001. Its second location, Passages Ventura, first opened its doors in 2009. The two drug, alcohol, and prescription medication abuse treatment centers offer an alternative to the 12 step/AA model of addiction treatment by utilizing a holistic program that focuses on the underlying issues of substance dependency, rather than attributing addiction to an incurable disease.
Both Passages Malibu and Passages Ventura accept insurance and each have earned the coveted Joint Commission (JCAHO) accreditation, which has only been given to 6% of the nation's behavioral health treatment programs.
Passages Malibu was named the #1 treatment center in the world by Healthcare Global, one of the "Most Luxurious Places to Dry Out" by Forbes magazine, and the Huffington Post recently acknowledged Passages as a center that "caters to a high-end crowd, with many CEOs, entrepreneurs and high-powered professionals among its clients."
The co-founders are also authors of an acclaimed series of addiction treatment books, including their groundbreaking, flagship title, The Alcoholism & Addiction Cure.
For general inquiries about treatment, contact: 866-233-1753.
For media inquiries, contact:
press(at)passagesmalibu(dot)com