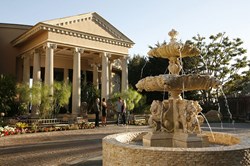 "It's encouraging to see the federal government take a positive turn in the lives of Americans struggling with addiction," - Pax Prentiss, CEO Passages Addiction Treatment Centers
Malibu, CA (PRWEB) August 20, 2013
The Washington Post reported on Monday August 12th, a new plan spearheaded by Attorney General Eric Holder that will no longer charge minor drug offenders with crimes that carry mandatory sentences. The Justice Department spent months crafting the reform package which hopes to curtail rising prison inmate numbers, which are largely viewed as unnecessary for elderly, nonviolent, and/or other prison populations who could better benefit from addiction treatment.
The terms of the reform seek to turn back some of the mandatory sentences that fell under the 1986 Anti-Drug Abuse Act, in which small amounts of drugs like crack cocaine landed offenders in prison for a minimum of five years. Provided the drug offenders do not have ties to large-scale organizations or violent histories, the changes will allow elderly inmates to seek early release and nonviolent drug offenders to seek addiction treatment, in lieu of incarceration.
More than 219,000 federal inmates are currently behind bars, with nearly half of them serving time for drug-related convictions. Holder is urging bipartisan support for the legislative changes needed to allow federal judges more discretion when applying mandatory minimums in certain drug-related cases.
"It's encouraging to see the federal government take a positive turn in the lives of Americans struggling with addiction," said Pax Prentiss, CEO of Passages Addiction Treatment Centers. "When dealing with drug or alcohol dependency, we've learned that our clients need to settle into a calm, therapeutic environment. At Passages, we also make sure that our clients can stay in touch with family, friends, and business contacts with their own cell phones and computers, to ensure a smooth transition once they've graduated and returned home."
At Passages Malibu - Addiction Ends Here™
About Passages Malibu & Passages Ventura:
Father and son team Chris and Pax Prentiss founded Passages Malibu in 2001. Its second location, Passages Ventura, first opened its doors in 2009. The two alcohol and drug abuse treatment centers offer an alternative to the 12 step/AA model of addiction treatment by utilizing a holistic program that focuses on the underlying issues of substance dependency, rather than attributing addiction to an incurable disease.
Both Passages Malibu and Passages Ventura accept insurance and each have earned the coveted Joint Commission (JCAHO) accreditation, which has only been given to 6% of the nation's behavioral health treatment programs.
Passages Malibu was named the #1 treatment center in the world by Healthcare Global, one of the "Most Luxurious Places to Dry Out" by Forbes magazine, and the Huffington Post recently acknowledged Passages as a center that "caters to a high-end crowd, with many CEOs, entrepreneurs and high-powered professionals among its clients."
The co-founders are also authors of an acclaimed series of addiction treatment books, including their groundbreaking, flagship title, The Alcoholism & Addiction Cure.
For general inquiries about treatment, contact: 866-233-1753.
For media inquiries, contact:
press(at)passagesmalibu(dot)com