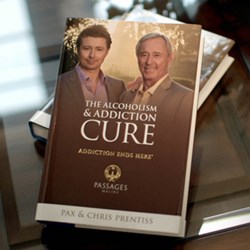 'At Passages we offer a diverse line-up of the latest treatment strategies to help high performing individuals continue their success and more effectively manage their daily lives.' - Pax Prentiss, CEO, Passages Malibu
Malibu, CA (PRWEB) October 23, 2013
In a recently published book, 'Drink: The Intimate Relationship Between Women and Alcohol,' author Ann Dowsett Johnston examines the rising rates of female alcohol dependence and its connection with professional stress and an increased focus on perfectionism.
An excerpt of the book recently appeared in The Atlantic, on October 15th. In that excerpt Dowsett Johnston examines her drinking habits during the course of her publishing career at a magazine, at which time she also juggled raising a son and public speaking engagements.
"Alcohol smoothed the switch from one role to the other. It seemed to make life purr. I could juggle a lot. Until, of course, I couldn't," writes Dowsett Johnston. "That's the thing about a drinking problem: It's progressive."
The excerpt also reveals data from a recent poll conducted by Netmums in Great Britain, in which it was reported that 81% of people who drank more than "safe drinking guidelines" did so to wind down from the stress of the day. This type of behavior is often referred to as self-medicating.
"We have established that people become dependent on alcohol due to conditions in their lives that they are unable to cope with," said Pax Prentiss, CEO of Passages Addiction Treatment Centers. "At Passages we offer a diverse line-up of the latest treatment strategies to help high performing individuals continue their success and more effectively manage their daily lives."
At Passages Malibu - Addiction Ends Here™
About Passages Malibu & Passages Ventura:
Father and son team Chris and Pax Prentiss founded Passages Malibu in 2001. Its second location, Passages Ventura, first opened its doors in 2009. The two drug & alcohol abuse treatment centers offer an alternative to the 12 step/AA model of addiction treatment by utilizing a holistic program that focuses on the underlying issues of substance dependency, rather than attributing addiction to an incurable disease.
Both Passages Malibu and Passages Ventura accept insurance and each have earned the coveted Joint Commission (JCAHO) accreditation, which has only been given to 6% of the nation's behavioral health treatment programs.
Passages Malibu was named the #1 treatment center in the world by Healthcare Global, one of the "Most Luxurious Places to Dry Out" by Forbes magazine, and the Huffington Post recently acknowledged Passages as a center that "caters to a high-end crowd, with many CEOs, entrepreneurs and high-powered professionals among its clients."
The co-founders are also authors of an acclaimed series of addiction treatment books, including their groundbreaking, flagship title, The Alcoholism & Addiction Cure.
For general inquiries about treatment, contact: 866-233-1753.
For media inquiries, contact:
press(at)passagesmalibu(dot)com