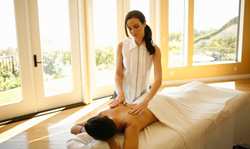 "Our treatment team does a great job of treating and healing trauma, with the most one-on-one therapy available in any treatment center in the world." - Pax Prentiss, CEO Passages Addiction Treatment Centers
Malibu, CA (PRWEB) February 25, 2014
Passages Malibu marked National Eating Disorder Awareness Week (February 23rd to March 1st) to help their national campaign raise awareness and provide individuals better access to medical services. Eating disorders are specifically defined as people dealing with anorexia, bulimia, or binge eating, and do not only include those with low weight.
Roughly half of all individuals with eating disorders also deal with substance dependence issues. Eating disorders often occur as a result of Post-Traumatic Stress Disorder. Trauma symptoms express themselves as intrusive or upsetting memories of past events, nightmares, apathy toward life in general, guilt, or persistent negative emotions like mistrust or alienation.
Passages Malibu believes that there are four causes of addiction and eating disorders.
Those causes include:
1. A chemical imbalance.
2. Events from the past that haven't been reconciled.
3. Currents conditions that can't be effectively coped with.
4. Ideas you hold about yourself that aren't true.
"At Passages, we've found that unresolved trauma can drive a range of unsafe behavior," said Pax Prentiss, CEO of Passages Addiction Treatment Centers. "Our treatment team does a great job of treating and healing trauma, with the most one-on-one therapy available in any treatment center in the world."
At Passages Malibu - Addiction Ends Here™
About Passages Malibu & Passages Ventura:
Father and son team Chris and Pax Prentiss founded Passages Malibu in 2001. Its second location, Passages Ventura, first opened its doors in 2009. The two alcohol & drug abuse treatment centers offer an alternative to the 12 step/AA model of addiction treatment by utilizing a holistic program that focuses on the underlying issues of substance dependency, rather than attributing addiction to an incurable disease.
Both Passages Malibu and Passages Ventura accept insurance and each have earned the coveted Joint Commission (JCAHO) accreditation, which has only been given to 6% of the nation's behavioral health treatment programs.
Passages Malibu was named the #1 treatment center in the world by Healthcare Global, one of the "Most Luxurious Places to Dry Out" by Forbes magazine, and the Huffington Post recently acknowledged Passages as a center that "caters to a high-end crowd, with many CEOs, entrepreneurs and high-powered professionals among its clients."
The co-founders are also authors of an acclaimed series of addiction treatment books, including their groundbreaking, flagship title, The Alcoholism & Addiction Cure.
For general inquiries about treatment, contact: 866-233-1753.
For media inquiries, contact:
press(at)passagesmalibu(dot)com