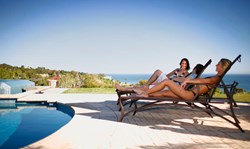 "For nonviolent offenders, treatment should always be an option," - Pax Prentiss, CEO of Passages Addiction Treatment Centers
Malibu, CA (PRWEB) February 11, 2014
Massachusetts state representative Randy Hunt proposed a new law on February 4th that if passed will allow nonviolent drug offenders to seek medical treatment, rather than face incarceration. The Massachusetts Joint Committee on Mental Health and Substance Abuse heard testimony from Rep. Hunt who aims to shape the treatment recommendations that drug offenders are offered.
The draft legislation comes at a time when prisons across the nation are facing bed shortages and seeking to reevaluate the way punishments are handed down for people who violate drug laws. Similar reforms were passed in Texas in 2007 and allowed that state to close a prison for the first time in its history, only four years later.
The Cape Cod Times reported that several local residents appeared in person to testify about their experiences with relatives who struggled to overcome prescription medication addiction, receiving little help from the state. The current draft legislation reportedly is enjoying bipartisan support from Cape Cod to Western Massachusetts, and may be fast-tracked into law.
"For nonviolent offenders, treatment should always be an option," said Pax Prentiss, CEO of Passages Addiction Treatment Centers. "At Passages, we've helped our clients stop using drugs and alcohol and return to living meaningful lives."
At Passages Malibu - Addiction Ends Here™
About Passages Malibu & Passages Ventura:
Father and son team Chris and Pax Prentiss founded Passages Malibu in 2001. Its second location, Passages Ventura, first opened its doors in 2009. The two drug, alcohol, and prescription medication abuse treatment centers offer an alternative to the 12 step/AA model of addiction treatment by utilizing a holistic program that focuses on the underlying issues of substance dependency, rather than attributing addiction to an incurable disease.
Both Passages Malibu and Passages Ventura accept insurance and each have earned the coveted Joint Commission (JCAHO) accreditation, which has only been given to 6% of the nation's behavioral health treatment programs.
Passages Malibu was named the #1 treatment center in the world by Healthcare Global, one of the "Most Luxurious Places to Dry Out" by Forbes magazine, and the Huffington Post recently acknowledged Passages as a center that "caters to a high-end crowd, with many CEOs, entrepreneurs and high-powered professionals among its clients."
The co-founders are also authors of an acclaimed series of addiction treatment books, including their groundbreaking, flagship title, The Alcoholism & Addiction Cure.
For general inquiries about treatment, contact: 866-233-1753.
For media inquiries, contact:
press(at)passagesmalibu(dot)com