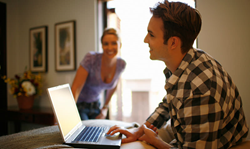 "Individuals with unresolved trauma can begin a progression of dependency, beginning with marijuana, which often leads to other drugs or unsafe behavior." - Pax Prentiss, CEO Passages Addiction Treatment Centers
Malibu, CA (PRWEB) March 05, 2014
The New York Times reported on February 26th that more than half of all US states have taken up legislation pertaining to marijuana, ranging from full recreational use to use for medical purposes to mere decriminalization. These efforts are seen as following the legalization of recreational marijuana in Washington State and the state of Colorado.
It was reported that Colorado projects $134 million in tax revenue from marijuana in the coming fiscal year. The Times also reported that the two states most likely to consider full legalization are Oregon and Alaska.
President Obama indicated that he will not direct administration officials to intercede with the roll out of new laws and the Treasury Department will allow banks to accept money from licensed retailers of marijuana.
The Times also reported that a thin majority of Americans believe marijuana should be legal, roughly 51%. Among Americans under 30, 72% believed it should be legal, while only 29% of those above age 65 believe that it should be legalized.
While decriminalizing the drug is likely to help overburdened jails and prisons, the full recreational legalization remains controversial and is opposed by many in addition treatment.
"We do not support full legalization of marijuana because, in our experience, it has the potential for abuse, like any other mind-altering substance," said Pax Prentiss, CEO of Passages Addiction Treatment Centers. "Individuals with unresolved trauma can begin a progression of dependency, beginning with marijuana, which often leads to other drugs or unsafe behavior."
At Passages Malibu - Addiction Ends Here™
About Passages Malibu & Passages Ventura:
Father and son team Chris and Pax Prentiss founded Passages Malibu in 2001. Its second location, Passages Ventura, first opened its doors in 2009. The two alcohol & drug abuse treatment centers offer an alternative to the 12 step/AA model of addiction treatment by utilizing a holistic program that focuses on the underlying issues of substance dependency, rather than attributing addiction to an incurable disease.
Both Passages Malibu and Passages Ventura accept insurance and each have earned the coveted Joint Commission (JCAHO) accreditation, which has only been given to 6% of the nation's behavioral health treatment programs.
Passages Malibu was named the #1 treatment center in the world by Healthcare Global, one of the "Most Luxurious Places to Dry Out" by Forbes magazine, and the Huffington Post recently acknowledged Passages as a center that "caters to a high-end crowd, with many CEOs, entrepreneurs and high-powered professionals among its clients."
The co-founders are also authors of an acclaimed series of addiction treatment books, including their groundbreaking, flagship title, The Alcoholism & Addiction Cure.
For general inquiries about treatment, contact: 866-233-1753.
For media inquiries, contact:
press(at)passagesmalibu(dot)com