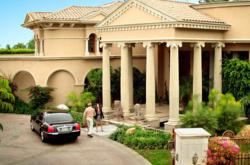 The assumption that drugs are automatically safe, just because they come from a doctor could not be further from the truth. - Pax Prentiss
Malibu, CA (PRWEB) July 08, 2013
The phrase "Medication Nation" has been used more than once to describe the general trend that the US is heading toward. Mayo Clinic Proceedings recently reported the top prescribed drugs fell into three groups, antibiotics, antidepressants, and painkillers, with 70% of the surveyed population prescribed and taking at least one kind of pharmaceutical.
Particularly troubling is opioid painkillers on the list which have been established as especially habit-forming. 13% of participants in the Mayo Clinic study were provided with a prescription for painkillers. Prescription medication was prescribed evenly across all age groups, with the exception of high blood pressure drugs. The survey analyzed medical records in Olmstead County in Minnesota and the statistics from that survey are comparable to the general population of the US.
US spending on prescription drugs reached $250 million in 2009, 12% of all personal health care costs, with no signs of slowing down. The Centers for Disease Control reported in 2010 that 58% of all US drug overdose fatalities were caused by prescription pharmaceuticals.
"The assumption that drugs are automatically safe, just because they come from a doctor could not be further from the truth," said Pax Prentiss, CEO of Passages Malibu Addiction Treatment Centers. "Our experience has shown that prescription medication has a high potential for misuse and dependency as much, if not more so, as other illegal substances. Fortunately, our alternative treatment program has developed over the years to ensure that we're able to deliver effective means of healing to help individuals move past their addictive behavior."
At Passages Malibu - Addiction Ends Here™
About Passages Malibu & Passages Ventura:
Father and son team Chris and Pax Prentiss founded Passages Malibu in 2001. Its second location, Passages Ventura, first opened its doors in 2009. The two drug, alcohol, and prescription medication abuse treatment centers offer an alternative to the 12 step/AA model of addiction treatment by utilizing a holistic program that focuses on the underlying issues of substance dependency, rather than attributing addiction to an incurable disease.
Both Passages Malibu and Passages Ventura accept insurance and each have earned the coveted Joint Commission (JCAHO) accreditation, which has only been given to 6% of the nation's behavioral health treatment programs.
Passages Malibu was named the #1 treatment center in the world by Healthcare Global, one of the "Most Luxurious Places to Dry Out" by Forbes magazine, and the Huffington Post recently acknowledged Passages as a center that "caters to a high-end crowd, with many CEOs, entrepreneurs and high-powered professionals among its clients."
The co-founders are also authors of an acclaimed series of addiction treatment books, including their groundbreaking, flagship title, The Alcoholism & Addiction Cure.
For general inquiries about treatment, contact: 866-233-1753.
For media inquiries, contact:
press(at)passagesmalibu(dot)com