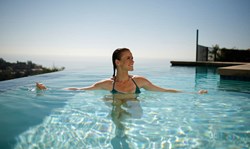 "At Passages, our holistic treatment professionals have offered mindfulness meditation as a part of our treatment program since we first began working with clients in 2001," said Pax Prentiss, CEO of Passages Addiction Treatment Centers
Malibu, CA (PRWEB) January 22, 2014
A new study that examined the effectiveness of using meditation to improve stress-related medical outcomes was published January 6th in JAMA Internal Medicine. The research showed that although the benefits were moderate, psychological stress across multiple categories — including anxiety, depression, and pain — was diminished through the use of meditation.
The type that appeared to provide the greatest benefit — mindful meditation — highlights the importance of accepting thoughts and feelings without judgment, as well as relaxing one's body and mind. The concluding remarks of the study recommended that physicians prepare themselves "to talk with their patients about the role that a meditation program could have in addressing psychological stress."
The study included 47 trials across a diverse range of clinical populations, including more than 3,500 participants. The evidence was graded using four criteria including risk of bias, precision, directness, and consistency.
"At Passages, our holistic treatment professionals have offered mindfulness meditation as a part of our treatment program since we first began working with clients in 2001," said Pax Prentiss, CEO of Passages Addiction Treatment Centers. "For many years, we've seen the benefits of progressive therapeutic options, in addition to the more traditional practices like chemical dependency counseling and psychotherapy."
At Passages Malibu - Addiction Ends Here™
About Passages Malibu & Passages Ventura:
Father and son team Chris and Pax Prentiss founded Passages Malibu in 2001. Its second location, Passages Ventura, first opened its doors in 2009. The two drug & alcohol abuse treatment centers offer an alternative to the 12 step/AA model of addiction treatment by utilizing a holistic program that focuses on the underlying issues of substance dependency, rather than attributing addiction to an incurable disease.
Both Passages Malibu and Passages Ventura accept insurance and each have earned the coveted Joint Commission (JCAHO) accreditation, which has only been given to 6% of the nation's behavioral health treatment programs.
Passages Malibu was named the #1 treatment center in the world by Healthcare Global, one of the "Most Luxurious Places to Dry Out" by Forbes magazine, and the Huffington Post recently acknowledged Passages as a center that "caters to a high-end crowd, with many CEOs, entrepreneurs and high-powered professionals among its clients."
The co-founders are also authors of an acclaimed series of addiction treatment books, including their groundbreaking, flagship title, The Alcoholism & Addiction Cure.
For general inquiries about treatment, contact: 866-233-1753.
For media inquiries, contact:
press(at)passagesmalibu(dot)com