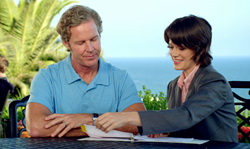 "We've integrated locally-sourced produce and nutritious food since the earliest days of Passages."- Pax Prentiss, CEO, Passages Addiction Treatment Center.
Malibu, CA (PRWEB) March 24, 2014
Every March, the Academy of Nutrition and Dietetics sponsors National Nutrition Month to help the American public make better choices about what they choose to eat.
In addition to the one-on-one therapy sessions and individualized treatment that Passages Malibu is known for, the holistic treatment sanctuary continues to support healthy eating as an important aspect of returning to overall good health.
Here are a few nutrition tips for individuals who would like to prioritize eating clean:
1. Limit processed foods – Stay away from packaged food with a long list of ingredients or foods that contain artificial colors or flavors. Many prepackaged foods are high in sodium and lack basic nutrients.
2. Eat more Veggies – Green vegetables in particular are high in vitamins and fiber and low on calories.
3. Eat less sugar – Cut down on added sugar by limiting sweets like soda and candy. The World Health Organization recently reported that only about 5% of all calories consumed should be from sugar. You'd be surprised how much sugar your canned tomato sauce or flavored yogurt contains.
4. Reduce Refined Grains – Refined grains are more processed than whole grains and are stripped of beneficial nutrients and fiber. Instead of white rice, bread, and pasta, substitute whole wheat, quinoa, or brown rice.
"We've integrated locally-sourced produce and nutritious food since the earliest days of Passages," said Pax Prentiss, CEO of Passages Addiction Treatment Center. "Our treatment team uses a comprehensive, holistic approach to help our clients return to living meaningful lives, drug and alcohol-free."
National Nutrition Month kicked off on March 3rd with a friendly reminder to "Enjoy the Taste of Eating Right" on the big electronic billboard in New York City's Times Square.
At Passages Malibu - Addiction Ends Here™
About Passages Malibu & Passages Ventura:
Father and son team Chris and Pax Prentiss founded Passages Malibu in 2001. Its second location, Passages Ventura, first opened its doors in 2009. The two drug & alcohol abuse treatment centers offer an alternative to the 12 step/AA model of addiction treatment by utilizing a holistic program that focuses on the underlying issues of substance dependency, rather than attributing addiction to an incurable disease.
Both Passages Malibu and Passages Ventura accept insurance and each have earned the coveted Joint Commission (JCAHO) accreditation, which has only been given to 6% of the nation's behavioral health treatment programs.
Passages Malibu was named the #1 treatment center in the world by Healthcare Global, one of the "Most Luxurious Places to Dry Out" by Forbes magazine, and the Huffington Post recently acknowledged Passages as a center that "caters to a high-end crowd, with many CEOs, entrepreneurs and high-powered professionals among its clients."
The co-founders are also authors of an acclaimed series of addiction treatment books, including their groundbreaking, flagship title, The Alcoholism & Addiction Cure.
For general inquiries about treatment, contact: 866-233-1753.
For media inquiries, contact:
press(at)passagesmalibu(dot)com