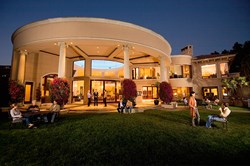 "The exceptional treatment team we've assembled at Passages does an excellent job of empowering our clientele, so they can move forward with their lives." - Pax Prentiss, CEO Passages Addiction Treatment Centers
Malibu, CA (PRWEB) December 30, 2013
With 2014 just around the corner, many people look ahead to New Year's Day as an opportunity to commit to joining a gym, quitting smoking, or making other, more significant, life-enhancing decisions. It's often all too easy to find reasons to continue in the direction you're already heading, but the new calendar year often inspires a moment of pause; a fresh perspective.
Passages Malibu, the definitive Southern California sanctuary of holistic addiction treatment, composed and released the following list of invigorating tips for individuals who are ready to commit to healthier, more constructive lifestyle alternatives in the coming year.
1. Embrace the present moment: Being conscious of your thoughts is the clearest path toward changing your heart, mind, and body. Also, awakening yourself to the environment around you will allow you to see positive opportunities as they come into your life.
2. An attitude of gratitude: Appreciate all that you have in your life and find ways to celebrate it. For some people this means making a list, taking note of all that you have. For others, expressing appreciation to people in your life is more important. Don't forget to acknowledge your own talents and abilities.
3. Be mindful of the company you keep: Not everyone out there can be your dearest ally, but those who are, should be kept in close confidence. Surrounding yourself with people who reflect back the most positive aspects of your life is essential, but it's also important to stay connected with people who offer realistic advice so you can remain grounded.
"We welcome anyone who's made the choice to stop using drugs or alcohol," said Pax Prentiss, CEO of Passages Addiction Treatment Centers. "The exceptional treatment team we've assembled at Passages does an excellent job of empowering our clientele, so they can move forward with their lives."
At Passages Malibu - Addiction Ends Here™
About Passages Malibu & Passages Ventura:
Father and son team Chris and Pax Prentiss founded Passages Malibu in 2001. Its second location, Passages Ventura, first opened its doors in 2009. The two drug & alcohol abuse treatment centers offer an alternative to the 12 step/AA model of addiction treatment by utilizing a holistic program that focuses on the underlying issues of substance dependency, rather than attributing addiction to an incurable disease.
Both Passages Malibu and Passages Ventura accept insurance and each have earned the coveted Joint Commission (JCAHO) accreditation, which has only been given to 6% of the nation's behavioral health treatment programs.
Passages Malibu was named the #1 treatment center in the world by Healthcare Global, one of the "Most Luxurious Places to Dry Out" by Forbes magazine, and the Huffington Post recently acknowledged Passages as a center that "caters to a high-end crowd, with many CEOs, entrepreneurs and high-powered professionals among its clients."
The co-founders are also authors of an acclaimed series of addiction treatment books, including their groundbreaking, flagship title, The Alcoholism & Addiction Cure.
For general inquiries about treatment, contact: 866-233-1753.
For media inquiries, contact:
press(at)passagesmalibu(dot)com