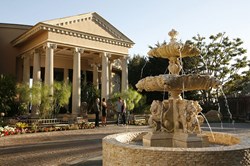 "Especially for non-violent drug users who are ready to give up their dependency, it is extremely beneficial to have better access to treatment." - Pax Prentiss, CEO Passages Addiction Treatment Centers
Malibu, CA (PRWEB) October 02, 2013
When online health marketplaces opened on October 1st, the US began enrolling Americans in low cost insurance plans that include addiction treatment as a part of basic health coverage. These new changes are currently offered on the web, under the 2010 Affordable Care Act (ACA). They indicate a trend moving non-violent substance dependency away from the context of a criminal act and toward a treatable condition, better handled by medical professionals than by law enforcement.
An analysis recently released in the California Health Report stated that "healthcare and drug treatment are coming together. The ACA calls for coordinated care in which physical, mental health, and substance abuse professionals work as a team." Online health marketplaces offer coverage on a sliding scale with some Americans paying nothing for plans, depending on how much they earn annually. Coverage under new ACA-backed plans begins on January 1st, 2014.
Substance abuse of tobacco, alcohol, and illicit drugs costs the US $600 billion annually in crime, health care, and lost productivity. It is estimated that 23 million Americans deal with drug or alcohol dependency, of which only 10% receive treatment or counseling. New changes in addiction treatment coverage are expected to double the demand for addiction treatment counselors to more than 3,000 nationwide.
"At Passages, we treat addiction and substance dependency as a symptom of underlying issues, often stemming from unresolved trauma," said Pax Prentiss, CEO of Passages Addiction Treatment Centers. "Especially for non-violent drug users who are ready to give up their dependency, it is extremely beneficial to have better access to treatment. Since we began our work at Passages more than a decade ago, I have personally witnessed the transformational power of treatment, many times over."
At Passages Malibu - Addiction Ends Here™
About Passages Malibu & Passages Ventura:
Father and son team Chris and Pax Prentiss founded Passages Malibu in 2001. Its second location, Passages Ventura, first opened its doors in 2009. The two alcohol & drug abuse treatment centers offer an alternative to the 12 step/AA model of addiction treatment by utilizing a holistic program that focuses on the underlying issues of substance dependency, rather than attributing addiction to an incurable disease.
Both Passages Malibu and Passages Ventura accept insurance and each have earned the coveted Joint Commission (JCAHO) accreditation, which has only been given to 6% of the nation's behavioral health treatment programs.
Passages Malibu was named the #1 treatment center in the world by Healthcare Global, one of the "Most Luxurious Places to Dry Out" by Forbes magazine, and the Huffington Post recently acknowledged Passages as a center that "caters to a high-end crowd, with many CEOs, entrepreneurs and high-powered professionals among its clients."
The co-founders are also authors of an acclaimed series of addiction treatment books, including their groundbreaking, flagship title, The Alcoholism & Addiction Cure.
For general inquiries about treatment, contact: 866-233-1753.
For media inquiries, contact:
press(at)passagesmalibu(dot)com