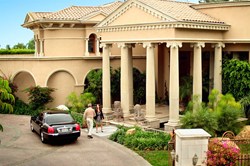 "After starting Passages with my dad, it's hard to believe that 12 years have gone by." - Pax Prentiss, CEO
Malibu, CA (PRWEB) August 05, 2013
On August 11th 2001, Passages Malibu first opened its doors, following the successful treatment and recovery of co-founder and now-CEO Pax Prentiss. Together with his father, co-founder Chris Prentiss, Pax set out on a journey to share the knowledge and power learned during his transformational recovery process. That journey shaped Passages Malibu, which has evolved into the most effective and prestigious addiction treatment center in the world.
After finding little else but frustration in the 12-Step process, Pax and Chris decided to create and develop their own program of alternative, non-12 Step addiction treatment, eventually making it available to the public. In the years that followed, Passages expanded to offer a variety of progressive treatment methods, including tai chi, meditation, yoga, adventure therapy, ocean therapy, equine therapy, as well as more traditional forms of treatment like chemical dependency counseling and psychotherapy.
In 2009, Passages Malibu expanded, opening a sister facility, Passages Ventura, that provides a similar treatment program, at a more modest price point. Between the two coastal facilities, thousands of individuals have been successfully treated for substance dependency over the course of 12 years. Passages has enjoyed international recognition from numerous medical professionals & media outlets, and continues to grow at a steady pace.
"The ongoing success of Passages has kept us very grateful," said Pax Prentiss, CEO of Passages Addiction Treatment Centers. "We're always honored when people from around the world turn to us for help on their path to a more fulfilling life. It's gratifying to know that we've helped so many clients find their path. After starting Passages with my dad, it's hard to believe that 12 years have gone by. We'll always be here, ready to work with anyone who's ready to confront their underlying issues and embrace the future with a new sense of empowerment."
At Passages Malibu - Addiction Ends Here™
About Passages Malibu & Passages Ventura:
Father and son team Chris and Pax Prentiss founded Passages Malibu in 2001. Its second location, Passages Ventura, first opened its doors in 2009. The two drug & alcohol abuse treatment centers offer an alternative to the 12 step/AA model of addiction treatment by utilizing a holistic program that focuses on the underlying issues of substance dependency, rather than attributing addiction to an incurable disease.
Both Passages Malibu and Passages Ventura accept insurance and each have earned the coveted Joint Commission (JCAHO) accreditation, which has only been given to 6% of the nation's behavioral health treatment programs.
Passages Malibu was named the #1 treatment center in the world by Healthcare Global, one of the "Most Luxurious Places to Dry Out" by Forbes magazine, and the Huffington Post recently acknowledged Passages as a center that "caters to a high-end crowd, with many CEOs, entrepreneurs and high-powered professionals among its clients."
The co-founders are also authors of an acclaimed series of addiction treatment books, including their groundbreaking, flagship title, The Alcoholism & Addiction Cure.
For general inquiries about treatment, contact: 866-233-1753.
For media inquiries, contact:
press(at)passagesmalibu(dot)com