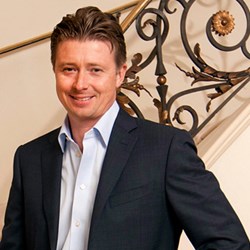 My success in finding sobriety is less about a personal victory and says more about the ongoing work we do here at Passages. - Pax Prentiss CEO, Passages Addiction Treatment Centers
Malibu, CA (PRWEB) September 03, 2013
The story of Pax Prentiss' road to sobriety was marked by dark moments of alcohol, cocaine, and heroin addiction. Without the unwavering commitment of his father, Passages co-founder Chris Prentiss, it's not likely that Pax would be with us today. After working unsuccessfully with numerous 12 Step programs, Pax and Chris discovered that the reasons driving Pax's addictive behavior were not rooted in the "disease" of addiction, but with his own unhealed, underlying issues.
Pax also credits the birth of his daughter Taylor as a major milestone that helped put his life into perspective. Since first finding his way to sobriety 13 years ago, Passages Addiction Treatment Centers, in Malibu and Ventura, have gone on to share their unique vision of healing with thousands of clients who have reached out for help. Passages continues to offer treatment centered around one-on-one therapy, assisting clients to understand the roots of their own addictive behavior.
For Pax Prentiss, the September 4th sober anniversary will be celebrated privately with his family, but it will be business as usual at Passages, in both Malibu and Ventura. Novel treatment methods like ocean therapy, yoga, and the year-round, beautiful weather of coastal Southern California all keep the Passages treatment experience in a class of its own.
The Alcoholism and Addiction Cure book has seen more than 300,000 copies circulated, helping to spread a more modern message of sobriety that establishes new ground in the addiction treatment landscape. The book has become a mainstay of the addiction treatment canon, especially helpful for individuals who have not found success with the disease model of addiction treatment, still being used by various 12 Step groups.
"I thank my dad for sticking by my side along the way. My success in finding sobriety is less about a personal victory and says more about the ongoing work we do here at Passages," said Pax Prentiss, CEO of Passages Addiction Treatment Centers. "Although the road was not always clear, I am grateful for having gone through some challenging life experiences. They have allowed me to share my perspective with our clients and inspire some people along the way. Whether it's with our book, The Alcoholism and Addiction Cure, or by coming into Passages for treatment, I always feel grateful to have the opportunity to share the story of my journey."
At Passages Malibu - Addiction Ends Here™
About Passages Malibu & Passages Ventura:
Father and son team Chris and Pax Prentiss founded Passages Malibu in 2001. Its second location, Passages Ventura, first opened its doors in 2009. The two alcohol & drug abuse treatment centers offer an alternative to the 12 step/AA model of addiction treatment by utilizing a holistic program that focuses on the underlying issues of substance dependency, rather than attributing addiction to an incurable disease.
Both Passages Malibu and Passages Ventura accept insurance and each have earned the coveted Joint Commission (JCAHO) accreditation, which has only been given to 6% of the nation's behavioral health treatment programs.
Passages Malibu was named the #1 treatment center in the world by Healthcare Global, one of the "Most Luxurious Places to Dry Out" by Forbes magazine, and the Huffington Post recently acknowledged Passages as a center that "caters to a high-end crowd, with many CEOs, entrepreneurs and high-powered professionals among its clients."
The co-founders are also authors of an acclaimed series of addiction treatment books, including their groundbreaking, flagship title, The Alcoholism & Addiction Cure.
For general inquiries about treatment, contact: 866-233-1753.
For media inquiries, contact:
press(at)passagesmalibu(dot)com