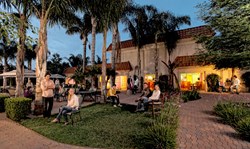 "Our treatment team has helped thousands of individuals achieve positive outcomes, by offering holistic treatment plans." - Pax Prentiss, CEO Passages Addiction Treatment Centers
Malibu, CA (PRWEB) January 14, 2014
The White House released a statement on December 19th detailing the pardons and sentence commutations that US President Barack Obama issued to twenty-one individuals in federal custody. Among those given clemency were 8 people convicted of crack cocaine related offences. Under the Fair Sentencing Act of 2010, those convicted of crimes involving crack cocaine would have received far less prison time.
Families Against Mandatory Minimums reported that approximately 8,800 inmates are currently serving time in federal prisons for convictions for crack-related offences, all of which occurred before the Fair Sentencing Act was passed in Congress.
"While street drugs like crack cocaine are clearly unsafe, for nonviolent offenders, treatment should always be considered an option," said Pax Prentiss, CEO of Passages Addiction Treatment Centers. "Our treatment team has helped thousands of individuals achieve positive outcomes, by offering holistic treatment plans."
The concern over government spending on housing inmates appeared to finally take priority over the hard-nosed mandatory minimum sentencing guidelines that cropped up following the crack cocaine epidemic of the 1980s.
The White House report revealed details of the overturned convictions, which included Clarence Aaron, an Alabama resident who received three life sentences for the part he played in a 1993 drug deal that occurred when he was 22. The 8 sentence commutations signaled the first time that the Fair Sentencing Act of 2010 was applied retroactively.
At Passages Malibu - Addiction Ends Here™
About Passages Malibu & Passages Ventura:
Father and son team Chris and Pax Prentiss founded Passages Malibu in 2001. Its second location, Passages Ventura, first opened its doors in 2009. The two alcohol & drug abuse treatment centers offer an alternative to the 12 step/AA model of addiction treatment by utilizing a holistic program that focuses on the underlying issues of substance dependency, rather than attributing addiction to an incurable disease.
Both Passages Malibu and Passages Ventura accept insurance and each have earned the coveted Joint Commission (JCAHO) accreditation, which has only been given to 6% of the nation's behavioral health treatment programs.
Passages Malibu was named the #1 treatment center in the world by Healthcare Global, one of the "Most Luxurious Places to Dry Out" by Forbes magazine, and the Huffington Post recently acknowledged Passages as a center that "caters to a high-end crowd, with many CEOs, entrepreneurs and high-powered professionals among its clients."
The co-founders are also authors of an acclaimed series of addiction treatment books, including their groundbreaking, flagship title, The Alcoholism & Addiction Cure.
For general inquiries about treatment, contact: 866-233-1753.
For media inquiries, contact:
press(at)passagesmalibu(dot)com