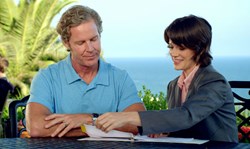 "In our experience at Passages, traumatic events can place individuals at greater risk for alcohol dependency," - Pax Prentiss, CEO of Passages Addiction Treatment Centers
Malibu, CA (PRWEB) February 03, 2014
A study published January 13th in the Journal of Abnormal Psychology revealed that 9 percent of college student exhibiting signs of post-traumatic stress disorder (PTSD) showed an increased likelihood of consuming more alcohol than their peers.
The study also showed that this increased consumption of alcohol made these individuals more likely to experience additional trauma — including sexual assault, interpersonal violence, and/or serious injury — that would exacerbate their PTSD symptoms. The study was reportedly the first of its kind to empirically examine the influences that PTSD and alcohol consumption have on each other.
"In our experience at Passages, traumatic events can place individuals at greater risk for alcohol dependency," said Pax Prentiss, CEO of Passages Addiction Treatment Centers. "We've found success helping individuals heal the emotional trauma they've experienced, so they can resume their lives without the need for drugs or alcohol."
Relationships between PTSD and heavy drinking in 486 students were examined in this study, as the subjects transitioned through college. Additional data was collected at 11 separate points, over the next three years. Researcher Jennifer P. Read, PhD previously studied the effects of traumatic experiences on social interactions at the individual level.
"We show that alcohol use and associated problems are linked over time to an exacerbation in PTSD symptoms, and that PTSD symptoms show a similar effect on alcohol consumption. Each affects the other. As such, both PTSD and heavy drinking are risk factors for one another, each with implications for the other over the course of college," said Read, associate professor of psychology at the University at Buffalo and principle investigator on the study.
At Passages Malibu - Addiction Ends Here™
About Passages Malibu & Passages Ventura:
Father and son team Chris and Pax Prentiss founded Passages Malibu in 2001. Its second location, Passages Ventura, first opened its doors in 2009. The two drug & alcohol abuse treatment centers offer an alternative to the 12 step/AA model of addiction treatment by utilizing a holistic program that focuses on the underlying issues of substance dependency, rather than attributing addiction to an incurable disease.
Both Passages Malibu and Passages Ventura accept insurance and each have earned the coveted Joint Commission (JCAHO) accreditation, which has only been given to 6% of the nation's behavioral health treatment programs.
Passages Malibu was named the #1 treatment center in the world by Healthcare Global, one of the "Most Luxurious Places to Dry Out" by Forbes magazine, and the Huffington Post recently acknowledged Passages as a center that "caters to a high-end crowd, with many CEOs, entrepreneurs and high-powered professionals among its clients."
The co-founders are also authors of an acclaimed series of addiction treatment books, including their groundbreaking, flagship title, T he Alcoholism & Addiction Cure.
For general inquiries about treatment, contact: 866-233-1753.
For media inquiries, contact:
press(at)passagesmalibu(dot)com