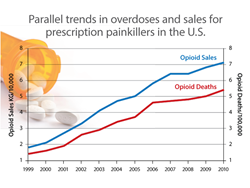 We would advise caution to anyone who is prescribed narcotic painkillers, especially if they've dealt with unresolved trauma in their personal history. - Pax Prentiss, CEO passages Addiction Treatment Centers
Malibu, CA (PRWEB) September 04, 2013
Purdue Pharma, the maker of one of the most potent and popular painkillers in the US is reportedly walking a fine line between driving sales and navigating the ethical dispensing of OxyContin. In an August 11th feature article by the Los Angeles Times, a rare, up-close look at the pharmaceutical company revealed that it has sold $27 billion worth of OxyContin since first unveiling the drug in 1996.
In The Times article, it came to light that Purdue maintains an internal database for tracking doctors who may potentially be over-prescribing the drug. The states with the highest number of prescribers, among the 364 deemed by Purdue to be "potentially problematic," include Florida with 106 and California with 59. Of the 1,800 prescribers being tracked, 154 had been reported to law enforcement or medical regulators by the company.
Individuals who abuse the drug by crushing and snorting it remain the most at-risk for addiction and overdose, as OxyContin is designed to be released slowly into the blood stream, by being ingested. The crush-resistant version of the popular narcotic painkiller saw a substantial drop in prescriptions after being made available in 2010. Other drug-makers have seen similar drops in prescriptions for drugs like Opana, after manufacturing and releasing tamper-resistant versions.
In 2009, more than 39,000 Americans died as a result of overdoses from prescription painkillers.
"Prescription drugs present similar risks as illegal drugs," said Pax Prentiss, CEO of Passages Addiction Treatment Centers. "We would advise caution to anyone who is prescribed narcotic painkillers, especially if they've dealt with unresolved trauma in their personal history. At Passages we've established a solid treatment strategy for individuals to effectively treat and heal their addictions. Our goal is to find out what's driving you to use drugs and alcohol, so you can get more out of your life and truly enjoy yourself."
At Passages Malibu - Addiction Ends Here™
About Passages Malibu & Passages Ventura:
Father and son team Chris and Pax Prentiss founded Passages Malibu in 2001. Its second location, Passages Ventura, first opened its doors in 2009. The two drug, alcohol, and prescription abuse treatment centers offer an alternative to the 12 step/AA model of addiction treatment by utilizing a holistic program that focuses on the underlying issues of substance dependency, rather than attributing addiction to an incurable disease.
Both Passages Malibu and Passages Ventura accept insurance and each have earned the coveted Joint Commission (JCAHO) accreditation, which has only been given to 6% of the nation's behavioral health treatment programs.
Passages Malibu was named the #1 treatment center in the world by Healthcare Global, one of the "Most Luxurious Places to Dry Out" by Forbes magazine, and the Huffington Post recently acknowledged Passages as a center that "caters to a high-end crowd, with many CEOs, entrepreneurs and high-powered professionals among its clients."
The co-founders are also authors of an acclaimed series of addiction treatment books, including their groundbreaking, flagship title, The Alcoholism & Addiction Cure.
For general inquiries about treatment, contact: 866-233-1753.
For media inquiries, contact:
press(at)passagesmalibu(dot)com