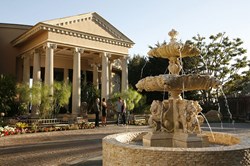 At Passages, we work to help our clients understand why they use, so they can empower themselves beyond the need for chemical dependency. - Pax Prentiss, CEO Passages Addiction Treatment Centers
Malibu, CA (PRWEB) October 30, 2013
A new report, released on October 7th by the Trust for America's Health, showed alarming statistics regarding the development of widespread problems with American prescription medication misuse since 1999.
Drug overdose fatalities, a majority of which stemmed from prescription medication, doubled in 29 states since 1999. Misuse and abuse of prescription painkillers was estimated to cost the US more than $53 billion in medical fees, court costs, and lost productivity.
West Virginia experienced an alarming spike in overdose deaths; more than 605 percent since 1999. Overdose death rates were reported lowest in Midwestern states. Only about one third of all states provide legal means to expanded use of naloxone (known as Rescue Drug Laws), to curb overdoses.
In more encouraging news, 24 states and Washington D.C. have elected to participate in the Affordable Care Act's Medicaid expansion, which provides more access to addiction treatment services. Key recommendations in the report include making rescue medications more widely available and better public education to raise awareness & understanding about the potential for addiction and misuse among prescription medication.
"Under certain circumstances, prescription medication can be just as troublesome as illegal drugs or alcohol," said Pax Prentiss, CEO of Passages Addiction Treatment Centers. "We've found that individuals who have yet to cope with pressure in their personal lives, including past trauma or an undiagnosed chemical imbalance, are more at-risk for becoming dependent on both legal and illegal substances. At Passages, we work to help our clients understand why they use, so they can empower themselves beyond the need for chemical dependency."
At Passages Malibu - Addiction Ends Here™
About Passages Malibu & Passages Ventura:
Father and son team Chris and Pax Prentiss founded Passages Malibu in 2001. Its second location, Passages Ventura, first opened its doors in 2009. The two drug & alcohol abuse treatment centers offer an alternative to the 12 step/AA model of addiction treatment by utilizing a holistic program that focuses on the underlying issues of substance dependency, rather than attributing addiction to an incurable disease.
Both Passages Malibu and Passages Ventura accept insurance and each have earned the coveted Joint Commission (JCAHO) accreditation, which has only been given to 6% of the nation's behavioral health treatment programs.
Passages Malibu was named the #1 treatment center in the world by Healthcare Global, one of the "Most Luxurious Places to Dry Out" by Forbes magazine, and the Huffington Post recently acknowledged Passages as a center that "caters to a high-end crowd, with many CEOs, entrepreneurs and high-powered professionals among its clients."
The co-founders are also authors of an acclaimed series of addiction treatment books, including their groundbreaking, flagship title, The Alcoholism & Addiction Cure.
For general inquiries about treatment, contact: 866-233-1753.
For media inquiries, contact:
press(at)passagesmalibu(dot)com