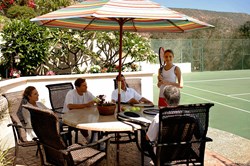 These figures are troubling, but for young people who are ready to stop using substances, there are plenty of resources available. - Pax Prentiss, CEO Passages Addiction Treatment Centers
Malibu, CA (PRWEB) September 18, 2013
A report published on August 29th by the Substance Abuse and Mental Health Services Administration (SAMHSA) has revealed in great detail the number of teenagers in the US who use illicit substances. The number of 12 to 17 year olds who smoke cigarettes on an average day comes to 881,684. Also included in the report are statistics on younger Americans who smoked marijuana (646,707) and drank alcohol (457,672).
Although data from SAMHSA showed that illicit drug use among young people is down over the last ten years, 7,639 consume alcohol for the first time each day, 4,594 tried an illicit or illegal drug for the first time, and 2,151 misused or abused prescription medication for their first time.
The SAMHSA Treatment Episode Data Set disclosed that on an average day more than 71,000 teenagers entered outpatient treatment and that 1,258 entered inpatient, hospital treatment.
SAMHSA is an agency within the US Department of Health and Human Services that strives to reduce the impact of substance abuse in America's communities.
"These figures are troubling, but for young people who are ready to stop using substances, there are plenty of resources available," said Pax Prentiss, CEO of Passages Addiction Treatment Centers. "We have two facilities in Malibu and Ventura who offer holistic, alternative ways to make positive impacts in the lives of teenagers who genuinely want to start living differently. We've been fortunate enough to have success getting to the root of the underlying issues that often drive addictive behavior. We provide a comfortable, healing environment to help people understand the true nature of their addiction, empowering them to find clarity in ways that make sense each person, individually. It's been rewarding to help so many unique individuals turn their lives around. I'm always inspired when our clients leave treatment and get back to their lives."
At Passages Malibu - Addiction Ends Here™
About Passages Malibu & Passages Ventura:
Father and son team Chris and Pax Prentiss founded Passages Malibu in 2001. Its second location, Passages Ventura, first opened its doors in 2009. The two alcohol & drug abuse treatment centers offer an alternative to the 12 step/AA model of addiction treatment by utilizing a holistic program that focuses on the underlying issues of substance dependency, rather than attributing addiction to an incurable disease.
Both Passages Malibu and Passages Ventura accept insurance and each have earned the coveted Joint Commission (JCAHO) accreditation, which has only been given to 6% of the nation's behavioral health treatment programs.
Passages Malibu was named the #1 treatment center in the world by Healthcare Global, one of the "Most Luxurious Places to Dry Out" by Forbes magazine, and the Huffington Post recently acknowledged Passages as a center that "caters to a high-end crowd, with many CEOs, entrepreneurs and high-powered professionals among its clients."
The co-founders are also authors of an acclaimed series of addiction treatment books, including their groundbreaking, flagship title, The Alcoholism & Addiction Cure.
For general inquiries about treatment, contact: 866-233-1753.
For media inquiries, contact:
press(at)passagesmalibu(dot)com