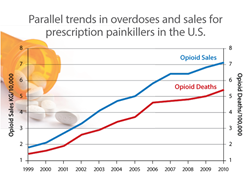 Our efforts at Passages focus on helping our clients recognize the reasons they become dependent on these kinds of substances, which often center on unresolved underlying problems. - Pax Prentiss, CEO Passages Addiction Treatment Centers
Malibu, CA (PRWEB) November 06, 2013
On October 24th, Bloomberg reported that the Food and Drug Administration will place the hydrocodone family of painkillers under tighter controls. The news is a drastic policy reversal from the FDA, which will seek to move the most popular pharmacy drugs in the US from a Schedule III substance to a more securely monitored Schedule II substance.
In 2011, roughly 131 million hydrocodone products were dispensed by pharmacies, more than double the amount of oxycodone, which remain classified as Schedule II.
The Drug Enforcement Administration (DEA) has urged the reclassification of the hydrocodone family of drugs since 2004. The DEA previously sought the reclassification of Vicodin and other hydrocodone painkillers to limit the total possible number of refills at a 90-day supply, rather than the current allotment of five refills in a six-month period.
"Prescription pain medication like Vicodin has a strong potential for dependency," said Pax Prentiss, CEO of Passages Addiction Treatment Centers. "Our efforts at Passages focus on helping our clients recognize the reasons they become dependent on these kinds of substances, which often center on unresolved underlying problems."
Currently, more Americans perish from accidental overdoses by prescription pain medication than by heroin and cocaine combined. Legislators from various parts of the US have also called for the reclassification of the drugs.
The decision, once made official, would effect hydrocodone combinations. Pure hydrocodone has previously been classified as a Schedule II controlled substance.
At Passages Malibu - Addiction Ends Here™
About Passages Malibu & Passages Ventura:
Father and son team Chris and Pax Prentiss founded Passages Malibu in 2001. Its second location, Passages Ventura, first opened its doors in 2009. The two drug, alcohol, and prescription medication abuse treatment centers offer an alternative to the 12 step/AA model of addiction treatment by utilizing a holistic program that focuses on the underlying issues of substance dependency, rather than attributing addiction to an incurable disease.
Both Passages Malibu and Passages Ventura accept insurance and each have earned the coveted Joint Commission (JCAHO) accreditation, which has only been given to 6% of the nation's behavioral health treatment programs.
Passages Malibu was named the #1 treatment center in the world by Healthcare Global, one of the "Most Luxurious Places to Dry Out" by Forbes magazine, and the Huffington Post recently acknowledged Passages as a center that "caters to a high-end crowd, with many CEOs, entrepreneurs and high-powered professionals among its clients."
The co-founders are also authors of an acclaimed series of addiction treatment books, including their groundbreaking, flagship title, The Alcoholism & Addiction Cure.
For general inquiries about treatment, contact: 866-233-1753.
For media inquiries, contact:
press(at)passagesmalibu(dot)com