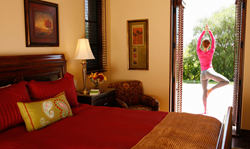 Our treatment team provides the most one-on-one therapy of any other rehab center, which allows our clients to return to their daily lives without the need for drugs or alcohol. - Pax Prentiss, CEO Passages Addiction Treatment Centers
Malibu, CA (PRWEB) April 23, 2014
An article published April 9th in TIME magazine cited a variety of sources from the scientific community which all concluded that a natural night's sleep is essential to good health, happiness, and better personal performance.
The need for sleep varies significantly between individuals, with some people functioning well after only five hours of sleep, while other require as many as ten to feel well-rested.
One study found that sleep therapy can be an effective treatment for depression. The chances of recovering from depression were doubled by using talk therapy, rather than medication to health patients obtain a full night's sleep.
Also mentioned in the article is a recent survey which noted that 70% of physicians agreed that insufficient rest is a significant health issue, yet only 43% recommend the benefits to their patients.
Two other studies were cited in the article, which showed the possibility of recovering from "sleep debt" but that it often takes a substantial amount of time to do so.
"At Passages, we have a well rounded treatment program," said Pax Prentiss, CEO of Passages Addiction Treatment Centers. "Our treatment team provides the most one-on-one therapy of any other rehab center, which allows our clients to return to their daily lives without the need for drugs or alcohol."
At Passages Malibu - Addiction Ends Here™
About Passages Malibu & Passages Ventura:
Father and son team Chris and Pax Prentiss founded Passages Malibu in 2001. Its second location, Passages Ventura, first opened its doors in 2009. The two alcohol & drug abuse treatment centers offer an alternative to the 12 step/AA model of addiction treatment by utilizing a holistic program that focuses on the underlying issues of substance dependency, rather than attributing addiction to an incurable disease.
Both Passages Malibu and Passages Ventura accept insurance and each have earned the coveted Joint Commission (JCAHO) accreditation, which has only been given to 6% of the nation's behavioral health treatment programs.
Passages Malibu was named the #1 treatment center in the world by Healthcare Global, one of the "Most Luxurious Places to Dry Out" by Forbes magazine, and the Huffington Post recently acknowledged Passages as a center that "caters to a high-end crowd, with many CEOs, entrepreneurs and high-powered professionals among its clients."
The co-founders are also authors of an acclaimed series of addiction treatment books, including their groundbreaking, flagship title, The Alcoholism & Addiction Cure.
For general inquiries about treatment, contact: 866-233-1753.
For media inquiries, contact:
press(at)passagesmalibu(dot)com