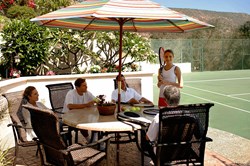 Malibu, CA (PRWEB) July 17, 2013
It started as a simple how-to video on YouTube, in January 2013. 3 million views and a multitude of copycat uploads later, smoking alcohol went from a difficult to understand technique, to a relatively extensive trend among young people seeking a quick thrill.
Medical doctors warn that misperceptions about the trend are commonly reported. It is rumored that inhaling alcohol vapor is legal if you're under 21 and will help you avoid calories normally associated with drinking alcohol.
Both claims are untrue.
Recent comments from Steve Pasierb from The Partnership for Drugfree.org recently aired on NBC's Today show, and revealed the surprising rise of smoking alcohol into mainstream culture.
The original YouTube video from January 2013 shows user "skippy62able" using a bike tire pump to vaporize a small amount of alcohol before inhaling it. The body's natural defense against overindulgence of alcohol, in its traditional liquid form, is to vomit. Doctor's warn that when inhaling alcohol, it's possible to excessively indulge without being able to expel the substance. Doctors also caution of the possibility that lung damage may result from the practice, which is too new to yield meaningful clinical data.
"It's very important that parents know what their kids are up to when it comes to fads like this," says Pax Prentiss, CEO of Passages Addiction Treatment Centers. "We released a statement about the Cinnamon Challenge a few weeks ago, for similar reasons. This kind of behavior is often a sign of other compulsive, unsafe activity. Considering that the main source of this trend is YouTube, it's also important for parents to know that young people might be at risk of gravitating toward this and other unsafe trends."
At Passages Malibu - Addiction Ends Here™
About Passages Malibu & Passages Ventura:
Father and son team Chris and Pax Prentiss founded Passages Malibu in 2001. Its second location, Passages Ventura, first opened its doors in 2009. The two drug & alcohol abuse treatment centers offer an alternative to the 12 step/AA model of addiction treatment by utilizing a holistic program that focuses on the underlying issues of substance dependency, rather than attributing addiction to an incurable disease.
Both Passages Malibu and Passages Ventura accept insurance and each have earned the coveted Joint Commission (JCAHO) accreditation, which has only been given to 6% of the nation's behavioral health treatment programs.
Passages Malibu was named the #1 treatment center in the world by Healthcare Global, one of the "Most Luxurious Places to Dry Out" by Forbes magazine, and the Huffington Post recently acknowledged Passages as a center that "caters to a high-end crowd, with many CEOs, entrepreneurs and high-powered professionals among its clients."
The co-founders are also authors of an acclaimed series of addiction treatment books, including their groundbreaking, flagship title, The Alcoholism & Addiction Cure.
For general inquiries about treatment, contact: 866-233-1753.
For media inquiries, contact:
press(at)passagesmalibu(dot)com