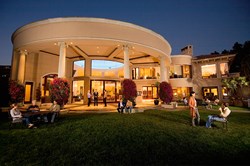 Thanksgiving reminds us of our commitment to helping people at Passages. I truly feel honored to work with each and every individual who comes through our doors. - Pax Prentiss, CEO of Passages Addiction Treatment Centers
Malibu, CA (PRWEB) November 25, 2013
This Thursday marks the passage of another Thanksgiving holiday in the US and an opportunity to take note of the year mostly gone by. For many, Thanksgiving is a welcome time that brings the start of the holiday season, but can also usher in additional personal pressure. People who are sober, but have not healed their underlying problems, may find it difficult to stay sober during the holidays. The holidays can be a happy time, but for many it can be emotional as well.
Travel often comes along with the Thanksgiving holiday as well, so Passages Malibu emphasizes the importance of staying safe while either driving or flying long distances.
With many people resorting to alcohol at family events, those who have elected to stay sober often need support to remain committed to their choice to stay sober. Passages Malibu recommends bringing a sober companion who is sensitive to your priorities or taking time before family gatherings to practice saying "No, thank you" can offer the extra strength necessary to continue your sober commitment.
Regardless of the nature of your Thanksgiving tradition, the spirit of gratitude that the occasion offers is one of the most important things to remember. Cultivating a sense of gratitude has positive impacts in all aspects of life, can strengthen relationships, improve health, reduce stress, and helps make people happier & more resilient.
"Thanksgiving reminds us of our commitment to helping people at Passages," said Pax Prentiss, CEO of Passages Addiction Treatment Centers. "We're dedicated to assisting our clients to heal their underlying conditions so that they can stay sober and return to leading successful lives. I truly feel honored to work with each and every individual who comes through our doors."
At Passages Malibu - Addiction Ends Here™
About Passages Malibu & Passages Ventura:
Father and son team Chris and Pax Prentiss founded Passages Malibu in 2001. Its second location, Passages Ventura, first opened its doors in 2009. The two drug & alcohol abuse treatment centers offer an alternative to the 12 step/AA model of addiction treatment by utilizing a holistic program that focuses on the underlying issues of substance dependency, rather than attributing addiction to an incurable disease.
Both Passages Malibu and Passages Ventura accept insurance and each have earned the coveted Joint Commission (JCAHO) accreditation, which has only been given to 6% of the nation's behavioral health treatment programs.
Passages Malibu was named the #1 treatment center in the world by Healthcare Global, one of the "Most Luxurious Places to Dry Out" by Forbes magazine, and the Huffington Post recently acknowledged Passages as a center that "caters to a high-end crowd, with many CEOs, entrepreneurs and high-powered professionals among its clients."
The co-founders are also authors of an acclaimed series of addiction treatment books, including their groundbreaking, flagship title, The Alcoholism & Addiction Cure.
For general inquiries about treatment, contact: 866-233-1753.
For media inquiries, contact: press(at)passagesmalibu(dot)com