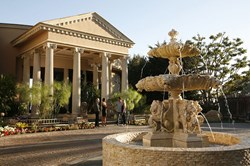 "If someone is undergoing significant pressure in their professional life, they sometimes turn to drugs or alcohol," Pax Prentiss, CEO of Passages Addiction Treatment Centers
Malibu, CA (PRWEB) December 18, 2013
October 29th marked the arrest of Florida Congressman Trey Radel for purchasing 3.5 grams of cocaine from an undercover law enforcement agent, according to a recently published article appearing on MSNBC.com. Radel subsequently pled guilty to possession following that arrest, announcing shortly thereafter that he would seek treatment and medically supervised rehabilitation.
On November 26th, MSNBC reported on the pressure building on the representative of Florida's 19th Congressional District to resign, with Radel being asked by Florida Republican Party Chairman Lenny Curry to step down, following his decision to enter rehab. Several other prominent state officials have echoed that call, including Florida Governor Rick Scott.
The reasons behind Rep. Radel's cocaine use have not been made public, but individuals under pressure have been known to turn to illicit substances as a coping mechanism, according to Passages Malibu CEO Pax Prentiss. "If someone is undergoing significant pressure in their professional life, they sometimes turn to drugs or alcohol," said Prentiss. "We've had a lot of success in showing people how to manage their stress levels which naturally leads to them not needing drugs or alcohol anymore."
According to the MSNBC article, Rep. Trey Radel pursued treatment at his own discretion and received a one year suspended sentence, following his guilty plea.
At Passages Malibu - Addiction Ends Here™
About Passages Malibu & Passages Ventura:
Father and son team Chris and Pax Prentiss founded Passages Malibu in 2001. Its second location, Passages Ventura, first opened its doors in 2009. The two alcohol & drug abuse treatment centers offer an alternative to the 12 step/AA model of addiction treatment by utilizing a holistic program that focuses on the underlying issues of substance dependency, rather than attributing addiction to an incurable disease.
Both Passages Malibu and Passages Ventura accept insurance and each have earned the coveted Joint Commission (JCAHO) accreditation, which has only been given to 6% of the nation's behavioral health treatment programs.
Passages Malibu was named the #1 treatment center in the world by Healthcare Global, one of the "Most Luxurious Places to Dry Out" by Forbes magazine, and the Huffington Post recently acknowledged Passages as a center that "caters to a high-end crowd, with many CEOs, entrepreneurs and high-powered professionals among its clients."
The co-founders are also authors of an acclaimed series of addiction treatment books, including their groundbreaking, flagship title, The Alcoholism & Addiction Cure.
For general inquiries about treatment, contact: 866-233-1753.
For media inquiries, contact:
press(at)passagesmalibu(dot)com