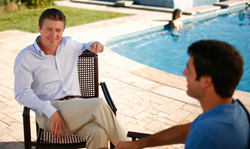 In our experience, individuals like military veterans who may be dealing with unresolved trauma, are at particular risk for becoming dependent on drugs or alcohol. Pax Prentiss, Passages CEO
Malibu, CA (PRWEB) March 31, 2014
According to a new report analyzing how returning military veterans take pain medication, roughly half of returning military service personnel who were prescribed opioid painkillers continued to use them chronically.
The report, funded by the National Institute on Drug Abuse, was presented on March 6th at the annual meeting of the American Academy of Pain Medicine. Chronic use of opioids was defined as using drugs like codeine, morphine, oxycodone, and/or hydrocodone for more than 90 days per year.
Data from the Veterans Healthcare Administration was examined in the study, which looked at more than 950,000 individuals who were prescribed some form of opioids for treating pain. More than 52% of those prescribed pain medication continued to take it beyond the threshold of chronic use.
"In our experience, individuals like military veterans who may be dealing with unresolved trauma, are at particular risk for becoming dependent on drugs or alcohol," said Pax Prentiss, CEO of Passages Addiction Treatment Centers. "Our treatment team does a great job healing trauma and helping our clientele return to living meaningful lives, without the need for drugs or alcohol."
The report also showed that patients who consumed the highest daily doses of painkillers were the least likely to discontinue using them. Other factors for increased painkiller use included post-traumatic stress disorder, tobacco use, and marital status.
At Passages Malibu - Addiction Ends Here™
About Passages Malibu & Passages Ventura:
Father and son team Chris and Pax Prentiss founded Passages Malibu in 2001. Its second location, Passages Ventura, first opened its doors in 2009. The two drug, alcohol, and prescription medication abuse treatment centers offer an alternative to the 12 step/AA model of addiction treatment by utilizing a holistic program that focuses on the underlying issues of substance dependency, rather than attributing addiction to an incurable disease.
Both Passages Malibu and Passages Ventura accept insurance and each have earned the coveted Joint Commission (JCAHO) accreditation, which has only been given to 6% of the nation's behavioral health treatment programs.
Passages Malibu was named the #1 treatment center in the world by Healthcare Global, one of the "Most Luxurious Places to Dry Out" by Forbes magazine, and the Huffington Post recently acknowledged Passages as a center that "caters to a high-end crowd, with many CEOs, entrepreneurs and high-powered professionals among its clients."
The co-founders are also authors of an acclaimed series of addiction treatment books, including their groundbreaking, flagship title, The Alcoholism & Addiction Cure.
For general inquiries about treatment, contact: 866-233-1753.
For media inquiries, contact:
press(at)passagesmalibu(dot)com