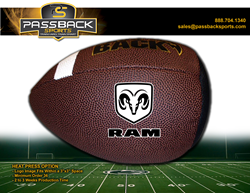 We were honored to help Chrysler increase awareness of its Dodge brand, and promote healthy, active lifestyles.
Spokane, WA (PRWEB) November 07, 2014
Passback Sports announced that the Chrysler Corporation used Passback Footballs to help promote its Dodge brand at the annual Texas Longhorns vs. Oklahoma Sooners football game – better known as the Red Diver Showdown – on October 11, 2014.
In addition to enjoying a wildly entertaining back-and-forth game that was eventually won by Oklahoma 31-26, randomly-selected fans received their very own Passback Football emblazoned with the Dodge Ram logo.
Chrysler selected the Passback Football from a wide variety of promotional options because the company felt that the product's uniqueness, performance-focused design, and alignment with a healthy and active lifestyle was an ideal fit for what the Dodge brand represents.
"We were honored to help Chrysler increase awareness of its Dodge brand, and promote healthy, active lifestyles," commented Passback Sports' CEO Corey F. Brock. "And because we added the Dodge Ram logo to each Passback Football, the awareness and positive messaging will continue spreading, and will be seen and appreciated by thousands of people across the country who didn't take a Passback Football home. That kind of promotional marketing is extremely valuable, and pays dividends long into the future."
The Passback Football, which was featured on the Late Show with David Letterman, is a revolutionary football training aide that is gripped and thrown like a conventional football, yet has a rounded end that rebounds the ball back to its thrower. Passback Footballs are currently used by individuals, teams and programs around the world at all levels -- including youth, high school, college and professional level -- to develop speed, power, agility, reaction and quickness, and to improve game-day results. They are also used by non-football athletes, including those in basketball, baseball, soccer, tennis, volleyball and other programs. The Passback Football commercial featuring former USC standout wide receiver and 12-year pro Johnnie Morton is available at https://www.youtube.com/watch?v=QRRlwVvfvpI.
More information on the Passback Football, along with Passback Sports' other training aid products for basketball, baseball and other sports, is available at http://www.passbacksports.com. All purchases of Passback Footballs made via the Passback Sports online store come with a 60-day money back guarantee (additional details are available on the website).
Companies that wish to learn more about using Passback Footballs for their promotional campaign can call Passback Sports at (888) 704-1340.
About Passback Sports
Passback Sports, Inc., home of the revolutionary Passback Football which is one of the world's leading training aids, was founded in 2012 to market exciting training products to the sports community that can make an impact.
Learn more at http://www.passbacksports.com