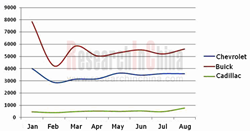 In the Chinese Passenger Car IoV Market, GM OnStar has always played a leading role. In the first eight months of 2014, about 77,000 Chinese users pre-installed OnStar for the first time, and the majority of them were Buick owners.
Dallas, TX (PRWEB) October 16, 2014
Since GM OnStar and Toyota G-Book officially embarked on China's market in 2009, Chinese passenger car brands have launched their own Telematics products, such as Ford SYNC, Nissan CARWINGS, SAIC InKaNet, Honda HondaLink, Geely G-NetLink, Mercedes-Benz CONNECT, Volvo Sensus, BMW ConnectedDrive, Yueda KIA UVO, Dongfeng Citroen Citro?n Connect, Dongfeng Peugeot Blue-i, Hyundai Blue Link, Changan in Call, Chery Cloudrive and so on.
In order to occupy "the fourth screen" in the mobile Internet era, domestic and foreign Internet giants begin to highlight Internet of Vehicles (IoV) in 2014, for example, Apple has released CarPlay vehicle system, Google has launched Android Auto, Alibaba has acquired AutoNavi and cooperated with SAIC to develop Internet automotive supplies, Tencent unveiled Lubao Box and held stake in Navinfo, Baidu collaborated with TimaNetworks to launch CARNET. As China's position in the global automotive market becomes more important, the competition in the Chinese passenger car Telematics market will turn to be more intense.
Chinese Telematics market falls into OEM market and aftermarket. The traditional OEM market focuses on traffic safety, such as remote assistance and other functions; the aftermarket emphasizes entertainment and other personalized services. However, OEM brands have paid more attention to the combination with mobile Internet and hope to make users have better experience; coupled with their inherent advantages in the industrial chain, they expect to master higher market share in the future.
Purchase a copy of this report @ http://www.chinamarketresearchreports.com/contacts/purchase.php?name=114936 .
There were more than 4,000 enterprises engaged in IoV aftermarket in China around 2012, but most of them have closed down or been struggling to survive now. For now, even large suppliers (like PATEO and Chinatsp) linked with considerable automobile companies see unsatisfying profitability. The fundamental reason lies in the lack of eye-catching Telematics applications which users are eager to pay for. Navigation and radio of the traditional vehicle system are the most frequently used functions for users. Telematics vendors intend to introduce a variety of innovative applications to intensify user viscosity, but they see little effect, which directly makes the IoV activation rate of new cars remain at less than 30%.
In the Chinese passenger car IoV market, GM OnStar has always played a leading role. In the first eight months of 2014, about 77,000 Chinese users pre-installed OnStar for the first time, and the majority of them were Buick owners.
Currently, the second-ranked passenger car IoV brand is Ford SYNC. In August 2014, Ford SYNC attracted about 48,000 new users in China.
In the future, Telematics should not only function as a marketing tool for automobile enterprises to enhance sales volume, but also a product that users really need. In order to stimulate consumption, all manufacturers need to accelerate the integration of automotive information devices and mobile Internet devices to provide users with diversified mobile Internet value-added services, as well as vigorously promote mobile mapping and connection with smart wearable devices to serve customers considerately.
With the participation of a large number of Internet companies and enriched IoV services, the activation rate of IoV features in the Chinese passenger car market is expected to keep rising, and the IoV user base will also expand rapidly.
Complete report is available at http://www.chinamarketresearchreports.com/114936.html .
The report includes the following aspects:

Overview of Chinese passenger car IoV market (including market profile, industry chain, market size, service contrast, product support, etc.)
Analysis on Chinese passenger car IoV brands (embracing business, pricing, number of new users, supported vehicle models, development strategy, technological trends, etc.)
Chinese passenger car IoV TSP enterprises (products, business, application cases, customer structure, development modes, etc.)
Table of Contents
1.1 Related Definitions
1.2 Industry Chain
2 China Telematics Market
2.1 Overview
2.2 Business of Main Telematics Brands
2.3 New Market Size
3 Telematics Business of Joint Ventures in China
3.1 Shanghai GM OnStar
3.2 Toyota G-BOOK
3.3 Honda HondaLink
3.4 Volvo SENSUS
3.5 Changan Ford SYNC
3.6 Dongfeng Nissan CARWINGS
3.7 Dongfeng Yueda Kia UVO
3.8 Dongfeng Citroen Citro?n Connect
3.9 Dongfeng Peugeot Blue-i
3.10 Mercedes-Benz CONNECT
3.11 Beijing Hyundai Blue Link
3.12 BMW Brilliance ConnectedDrive
4 Telematics Business of Local Companies in China
4.1 SAIC inkaNet
4.2 Changan in Call
4.3 Geely G-NetLink
4.4 Chery Cloudrive
5 TSP of Chinese Passenger Car Market
5.1 Chinatsp
5.2 PATEO
5.3 TimaNetworks
5.4 NavInfo
5.5 WirelessCar
5.6 Hughes IoV
Browse more reports on Automotive & Transportation Industry @ http://www.chinamarketresearchreports.com/cat/automotive-transportation.html .
About Us:
ChinaMarketResearchReports.com (http://www.chinamarketresearchreports.com/ .) is an online database of market research reports offer in-depth analysis of over 5000 market segments. The library has syndicated reports by leading market research publishers across the globe and also offer customized market research reports for multiple industries.